| | | |
| --- | --- | --- |
| | Dorset Austin Seven Club | |
| | RACING SECTION | |
Bert Hadley Championship (Austin Seven hillclimbing):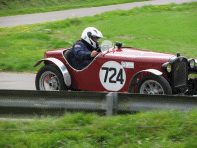 The Bert Hadley Memorial Championship is a series of Sprint and Speed Hillclimb events held each season for PWA7C members driving Austin Sevens of virtually any suitable type. The Championship is completely amateur and unsponsored and is geared to cater for drivers of all ages and occupations, expert or novice. The cars are divided into 'Road' and 'Track' classes and may include sports cars and reproduction single-seaters, inspired by the works cars, as driven before the war by Bert Hadley and his team mates. Club member Bernard Cowley and son Dan compete in their home-built Ulsteroid A7 as well as Douglas Alderson.
click here for calendar of races
Click here for more information on the PWA7C site (you will leave the DA7C site)
click here for Bert Hadley Results; Click here for latest Bert Hadley Championship
Results for 2017:
BERT HADLEY CHAMPIONSHIP 2017
Road-going class only (Bernard Cowley & Douglas Alderson):
| | | |
| --- | --- | --- |
| 22/04/17 | Gurston Down, Wilts | time |
| 1 | Bernard Cowley | 51.11 |
| 2 | Ian Bennett | 51.11 |
| 3 | Douglas Alderson | 55.08 |
| 4 | | |
| 5 | | |
| 6 | | |
| 27/05/17 | Prescott Hill, Glos | time |
| 1 | Bernard Cowley | 66.15 |
| 2 | Gerald Mullord | 70.13 |
| 3 | Douglas Alderson | 72.54 |
| 4 | Clare Mudie | 77.33 |
| 5 | | |
| 6 | | |
| 03/06/17 | Harewood, W Yorks | time |
| 1 | Ian Bennett | 83.86 |
| 2 | Al Frayling-Cork | 86.11 |
| 3 | Alan Bee | 92.70 |
| 4 | Gerald Mullord | 98.59 |
| 5 | | |
| 6 | | |
| 10/06/17 | Barbon, Cumbria | time |
| 1 | Ian Bennett | 41.20 |
| 2 | Geoff Harrison | 46.53 |
| 3 | Greg Harrison | 47.21 |
| 4 | Alan Bee | 47.42 |
| 5 | | |
| 6 | | |
| 24/06/17 | Aintree, Liverpool | time |
| 1 | Gerald Mullord | 75.00 |
| 2 | Peter Howat | 79.69 |
| 3 | | |
| 4 | | |
| 5 | | |
| 6 | | |
| 22/07/17 | Shelsley Walsh, Worcs | time |
| 1 | Ian Bennett | 48.86 |
| 2 | Alan Bee | 55.98 |
| 3 | Clare Mudie | 59.93 |
| 4 | Gerald Mullord | 60.33 |
| 5 | Douglas Alderson | 60.85 |
| 6 | Jonathan Sadler | 63.67 |
| 30/07/17 | Wiscombe Park, Devon | time |
| 1 | Bernard Cowley | 60.56 |
| 2 | Gerald Mullord | 63.63 |
| 3 | Douglas Alderson | 66.47 |
| 4 | | |
| 5 | | |
| 6 | | |
| 13/08/17 | Curborough, Staffs | time |
| 1 | Al Frayling-Cork | 80.65 |
| 2 | Ian Bennett | 83.47 |
| 3 | Bernard Cowley | 84.37 |
| 4 | Gerald Mullord | 85.09 |
| 5 | Peter Howat | 87.28 |
| 6 | Alan Bee | 90.71 |
| 26/08/17 | Loton Park, Shrops | time |
| 1 | Al Frayling-Cork | 77.84 |
| 2 | Ian Bennett | 80.06 |
| 3 | Gerald Mullord | 85.01 |
| 4 | Douglas Alderson | 88.54 |
| 5 | | |
| 6 | | |
| 03/09/17 | Blyton, Gainsborough | time |
| 1 | Al Frayling-Cork | 96.59 |
| 2 | Ian Bennett | 99.18 |
| 3 | Gerald Mullord | 104.86 |
| 4 | Simon Gallon | 113.59 |
| 5 | | |
| 6 | | |
| 30/09/17 | Curborough, Staffs | time |
| 1 | Al Frayling-Cork | 80.64 |
| 2 | Bernard Cowley | 82.68 |
| 3 | Gerald Mullord | 84.64 |
| 4 | Ian Bennett | 84.76 |
| 5 | Peter Howat | 85.23 |
| 6 | Simon Gallon | 88.15 |
| 22/10/17 | Rockingham, Northants | time |
| 1 | Al Frayling-Cork | 107.59 |
| 2 | Ian Bennett | 110.14 |
| 3 | Simon Gallon | 119.68 |
| 4 | | |
| 5 | | |
| 6 | | |
BERT HADLEY CHAMPIONSHIP

FINAL ROAD-GOING RESULTS (2017)

BEST 5 AFTER 12 ROUNDS

position
driver
points (best 5)
1
Al Frayling-Cork
50
2
Ian Bennett
48
3
Bernard Cowley
44
4
Gerald Mullord
38
5
Douglas Alderson
27
6
Alan Bee
22
7
Peter Howat
16
=7
Simon Gallon
16
9
Clare Mudie
11
10
Geoff Harrison
8