THE AUSTIN SEVEN CARBURETTOR 1936 - 1939
From the Austin Magazine
The Austin Seven has a Zenith horizontal type carburetter. Petrol from the pump passes through the union, the filter and the needle seating into the float chamber. As the float rises it will close the needle on its seating, thus regulating the flow of fuel.
The float chamber contains the main jet, the compensating jet, the capacity well and the slow running jet. Petrol flows through the main and compensating jets and rises in the capacity well. From the jets it flows along two separate channels into a common channel in the emulsion block attached to the float chamber. This main channel has its outlet in a nozzle which projects into the choke tube. Atmosphere and the main channel of the emulsion block are in direct contact with the capacity well.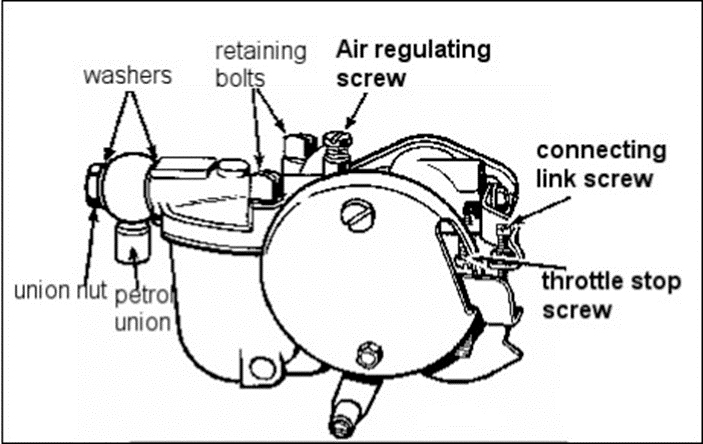 Adjustments
Only necessary adjustments should be made and only then when the engine has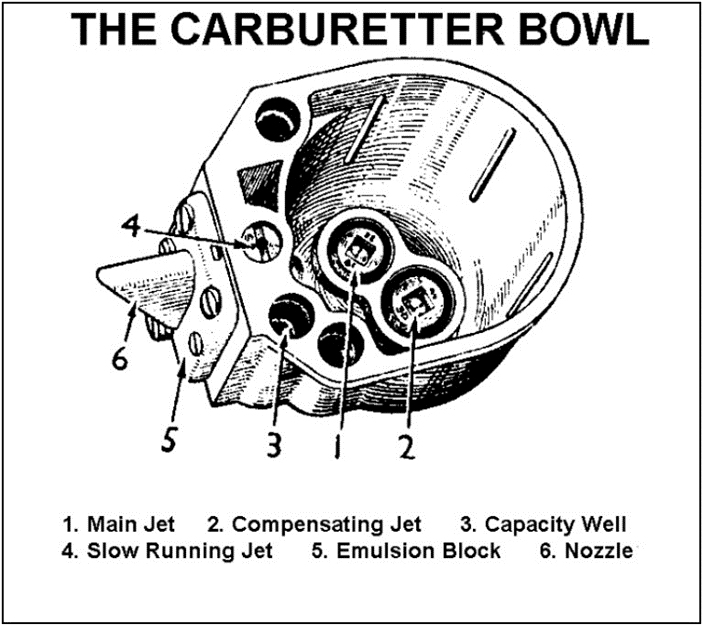 reached its running temperature. If the engine does not idle as slowly as desired, turn the stop screw to the left to close the throttle slightly. A weak mixture may also affect slow running. This can be remedied by turning the air regulating screw in a clockwise direction to enrich the mixture. However, do not make the mixture too rich or the engine will "hunt" or tend to choke when the engine is slow running and warm.
Controls From time to time it is advisable to ensure that the choke and throttle controls are operating freely— the strangler flap must open and close fully, and the throttle control must return fully against its stop in the idling position.
Jet Settings
These have been fixed after considerable experiment to ensure good fuel consumption combined with good performance. They should not be changed other than to replace old or worn jets unless it is desired to change the performance and fuel consumption of the car. Zenith jets sizes normally run in 5s, the higher the number the larger the jet. Although settings may differ according to the special requirements of certain markets, the standard jet sizes for Austin cars are as shown in table below.
Cleaning the bowl of the carburettor should be removed occasionally for cleaning. Take out two slotted retaining bolts and the bowl will drop into the hand. On Sevens, Big Sevens, Tens, Twelves and Fourteens the float will fall out when the bowl is turned upside down, revealing the main and compensating jets in the bottom of the bowl. Care must be taken that float is not damaged. If dented or punctured, a new float must be fitted. Remove the jets using the squared end of one retaining bolt and a spanner or screwdriver. Note that on the Eighteens, Twenties and Twenty-eights the jet cover must be removed before the jet itself can be unscrewed.
| | | | | |
| --- | --- | --- | --- | --- |
| JET | SEVEN | BIG SEVEN | TEN | TWELVE |
| choke | 17 | 23 | 23 | 25 |
| Main jet | 57 | 90 | 95 | 105 |
| Compensating jet | 50 | 50 | 50 | 60 |
| Slow running jet | 60 | 60 | 60 | 55 |
| Progression jet | 50 | - | 60 | 100 |
| Needle seating | 1.5mm | 1.5mm | 1.5mm | 1.5mm |
| Capacity tube | 2 | - | 2 | 2 |