LED LIGHTS
(Several different articles have been pulled together)
LED STOP LIGHT: Cornwall Club member Steve Baldwin has attached an LED high-level stop light to the rear end of his Box. It is s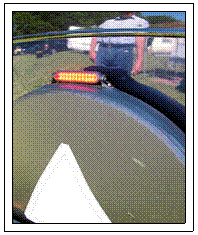 crewed firmly through the spare wheel cover and wired-in to the normal stop lights below. However, there is one proviso—they will only work for 12 volt conversions, of course. They can be bought from SVC for £25 Contact Tel: 01827-67714 or ordered on-line at www.s-v-c.co.uk/product/small-led-high-level-brake/. Steve Baldwin CA7C
LED HIGH LEVEL BRAKE LIGHT - 12V LIGHT with a 6V BATTERY (Douglas Alderson DA7C)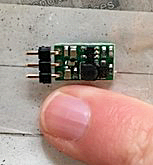 Driving to the run in October, I noticed that one of our rear lights had stopped working, a quick check at the start of the run failed to find the fault. Later investigation found that the left rear tail light had stopped working but the LED bulb was ok. The high level brake lights that came with the car, the left light was working as a tail light even though it was not wired to the tail lights. Further investigation found that one of the LED's and the high level brake light were coming apart and going to earth. As the light unit was not possible to repair without a bodge it was time to decide what to do about the high level brake lights.
I had looked into LED brake light units before but they all appeared to be 12v (our car is 6v) apart from a very attractive light I spotted on the internet for $60 plus carriage and import duties, a bit too expensive. Some time ago I purchased from eBay a small converter 6v to 12v so you can run 12v items at 6v, not sure how it works but only cost £0.99 inc postage from China (how they sold it new for so little I do not know). The only problem / good point with the converter it is very small, less than 1" long.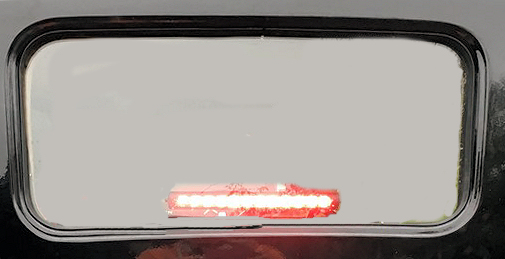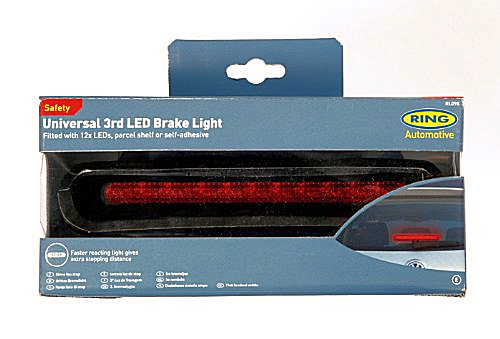 So the plan then was to find a suitable 12v LED light to use on the car, without spending too much as it may not work. The Ring Automotive RL098 12-LED High Level Brake Light from Amazon for £1.99 inc postage appeared to be a good option as a test.
The brake light had a cover to fit to a sloping window which would not be required and the light unit itself whilst a bit modern, was not too obtrusive. The light was then taken apart to see how it worked and if it would be possible to change the resistors to convert to 6v but this would require the circuit board to be modified and the correct resistors fitted. I looked for a plug for the converter but they were £5 so the wire was soldered straight on to the unit. There are three terminals positive in, positive out and negative. Maybe not for all but 12v on a 6v battery is useful. Douglas Alderson.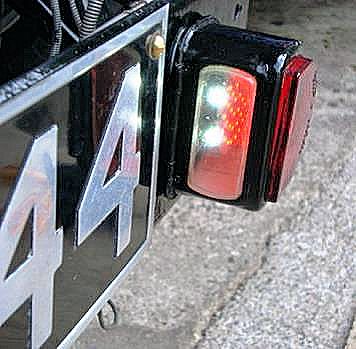 LED STOP LIGHTS: Ron Hayhurst recentl
y fitted LED lights to his Box Saloon - with splendid results. He bought them from Classic Dynamo and Regulator Conversions. See www.dynamoregulatorconversions.com where they show various options. From the BA7C newsletter with many thanks.
LED INDICATOR BULBS: A precautionary note regarding the fitting of the LED indicator bulb replacements. LEDs take much less current than filament bulbs so the contact surfaces within the trafficator arm need to be cleaned up to a bright metal finish as they need the full 6 Volts at the bulb in order for them to flash. Thanks to AutoBumbler A7OC