NEW FOREST AUSTIN 7 GROUP
It is becoming increasingly more difficult every month to get newsletters out to inform you all of what is happening. I have until now been finding envelopes, conning various people into posting them and getting them printed with thanks to a certain company which will be nameless. So, with all this in mind, if you wish to join us - please send money: Seriously folks, if you want to join and cannot get to the next meeting at the Nags Head please fill in the form attached and send a cheque or P.O. for £1.50 which I think, in this day and age, is not too exhorbitant, made payable to B. Cowley (as we have no title at present). This entitles you to one year's membership from 1st November.
Next Month's Meeting Nags Head, Ringwood.  Room to the left of the bar 8.30 p.m. 21st October. General discussion re: the club.
AGENDA
1)Title of Club
2)Election of officers, i.e. Chairman, Secretary & Treasurer.
3)General aims of club.
Forthcoming_ Events A Skittles Evening has been suggested for the end of the year. Further details next month.
Food for Thought from Roger Ballard
Having stuck a lot of pins in a map where all the people live, 73% live within a five-mile radius of Canford Heath golf course, and incidentally is also equidistant from the two most distant members, viz. Nigel Ricardo and me.
If the name of-the club is to be changed from the New Forest A.7 Club, which incidentally is very close to the 'Solent' even though the Solent Club meets between Southampton and Portsmouth, the name should be Bournemouth A.7 Club to give non-members some idea of where the majority of members come from even if we go on meeting in Ringwood.
Last Month's Meeting - Austin 7 Quiz
Those of you who could not join us last month missed quite an enjoyable evening. There was a total of 34 questions on Austin 7s and we were split into two teams. Unfortunately a little unbalanced (the teams not the members) as there seemed to be more experts on one side than the other - Phil Whitter had even studied Watts book the night before! Hopefully we were all a little more knowledgeable on Sevens by the time the evening had finished.
Yeovil Car Club - 5th Cavalcade of Motoring
This large event, with an entry of 250, was held on 22nd August, with 16 classes and a Driving Test with four classes.  It was a red hot day and we had a good run into Yeovil
In our Ruby.  Austin Sevens were present in good numbers, 17 in all, and some very good ones amongst them including two 1927 Chummys, two 1929 Fabric Saloons, an Opel Tourer, a very nice Nippy owned by Nigel Ricardo, Box Saloons and several Rubys. Sevens took 1st and 2nd in Class 4, 1919 - 1930, and 1st and 2nd in Class 3 of the Driving Tests, of which I was lucky enough to win the 2nd and a very nice cup from Mercedes-Benz. It was a very good Rally and we had a typical ride home in the Seven. On leaving the Rally, roads congested to overflowing, we were directed by a Police WOMAN down a small lane which she said was a shortcut around Yeovil. Three quarters of an hour later and God knows how many miles, we found ourselves in a side street in Sherborne. We still don't know how we did it, but we eventually arrived safely home.
R. J. Cowell
<![if !vml]>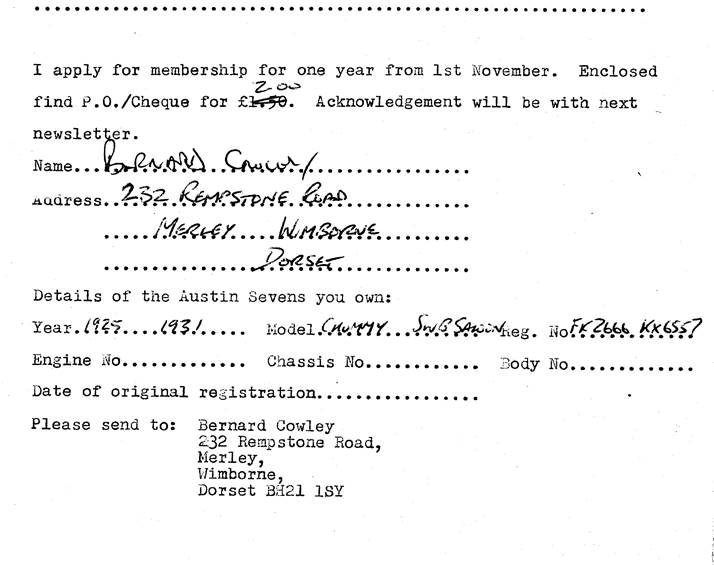 <![endif]>