November 1977
DORSET AUSTIN. SEVEN CLUB
EDITORIAL - by Phil Whitter
This month sees a change in the newsletter as the Secretarial becomes the Editorial. At the AGM it was decided Bernard was overloaded and I have taken over as newsletter editor. It will be difficult to follow the high standard set since Bernard has been compiling the letter and it is a tri≠bute to his enthusiasm that everybody has received regular information over the last year or so.
Bernard continues as Secretary and his other job has been taken over by Derek Munn, who becomes Chairman.
Now, getting down to business, don't forget to get those subs to Lawrence, £2 plus 75p if you want the A7CA magazine. It will not be possible to order the magazine after December.
On the social side it was decided at our last committee meeting that it would be more friendly to have an informal skittles evening early in January - more details next month.
Recent new member Pete Stone from Merley has purchased a '38 Ruby - the best of luck with the work Pete and let us all know what you need (apart from time!) to get going.
THIS MONTHS MEETING Nags Head, Ringwood 17th November. Table Top Concours - Bring along something immaculate associated with a car. We had some very interesting items last year,so letís see some new ones this year. A prize for the best item - one entry each please.
About 25 members were present at the Nags Heed on 20th October. It was an informal gathering and after reviewing our events of the past year the Committee was voted as shown. It was decided to keep subs. at £2 plus 75p. for the A7CA magazine. Bernard told us that he and John Page would be going to the A7CA meeting at Oxford the following Sunday to get us voted into the Association.
Chairman†††††††††††††††††††††††††† Derek Munn
Secretary††††††††††††††††††††††††† Bernard Cowley
Assistant Secretary†††††††††††††††† John Page
Treasurer††††††††††††††††††††††††† Lawrence Rideal
Events Secretaries††††††††††††††††† Gary Munn & Peter Treliving
News Letter Editor††††††††††††††††† Phil Whitter
Committee Members†††††††††††††††††† Glyn Llewellyn & Mike Wragg
Visit to Austin 7 Clubs Association Meeting Sunday 23rd_October.
Bernard and John Page were our club representatives at the A7CA quarterly meeting at Oxford. Just before their arrival they suffered a broken windscreen in Bernardís 'modern' and were fortunate enough to both have sunglasses and anoraks - vintage Allegro motoring!
The meeting was very well organised and they were made most welcome.† We were voted on to the Association and so join forces with the other 25 Worldwide A7 clubs.
Items discussed included a new form of rally judging, the production of set of A7 body drawings covering. '28-30 at a cost of £3.50 (a sample will be on show on clubnight and a successful solution to the question of 'dodgy' kingpins. The fully tested kingpins are available from the A7CA spares man, John Barlow, at £6 a set and his address is 7 Larch Crescent, Chilwell, Beeston, Notts.
Volunteers are needed in Dorset to join the national Breakdown Scheme. A list of members throughout Britain will be published who are willing to help a distressed Seven with the necessary spares to buy or borrow to get it back home - an excellent idea! Names to Bernard please. P.S. Hope you do not live near Beaulieu!!
Our thanks to Bernard and John for their trip on our behalf and we look forward to seeing our name on the back page of the excellent quarterly magazine.
Please Note Now we are in the A7CA you can get your A7 insured comprehensive with Lloyds security for a flat premium of £15.00
All enquiries to: Everest Insurance Services Ltd.,
P.O. Box 22,
Worthing,
West Sussex
EN11 2ED
Mr. Warwick Davis or Mr. David Gurney Tel. Worthing 35541/2
FOR SALE
I recently phoned North Hants Tyres at Fleet and got a reduced quote for the club for 350 x 19 Avon tyres at £12 + 50p carriage & vat.
+++++++
Roof Topping 60' wide very good quality. £4.50 per metre (I have a sample from Nigel if anybody wants to see it - Phil).
Kit of parts to build A7 van less doors, chassis included - £85
Nigel Ricardo†††††††††††††††††††††††††††††††††††††††††††††† Dorchester 3515
WANTED
A 'Special' body to go on long chassis and +30 block. Adrian Gilbride Wareham 2071
+++++++
Willie McKenzie needs for his '34 box a fan pulley, windscreen latch and headlight rim.
+++++++
Pair of Ruby front seat squabs needed by Phil Whitter.
+++
++++
All sales and wants to Phil Whitter Tel. Broadstone 694857
THE RACING AUSTINS by Charles Goodacre (cont.)
The four-cylinder engine was based on that of the Austin 12, which in turn had been based on the 20. Once again, a cast iron cylinder block with side valves on an aluminium crankcase was used.† But it was thought completely unreasonable to fit a five-bearing crankcase into the 7 engine, and after toying with the idea of a three bearing crank Sir Herbert finally decided on a two bearing crank and followed the example of the 1914 Baby Peugeot in using roller bearings, with a ball race at the front to take the thrust.
The chassis of the Austin 7 was quite unique and Sir Herbert secured many patents on it, but in fact it was inspired by the Willys Overland Model Four. This was the first attempt to build a really light car that would carry four people in comfort and great play was made of its three-point suspension, which was by two quarter-elliptic springs mounted transversely at the front with radius arms underneath, and by splayed quarter-elliptics at the rear. British concessionaire for the Overland was Sir William Letts, an old friend of Sir Herbert Austin. Austin replaced the two front quarter elliptics by a mingle transverse spring. The whole chassis was designed to be light and very simple so that skilled labour would not be required, to assemble it. The first prototypes were powered by a 696 cc engine, but Austin decided that the 8 bhp it produced was not sufficient and therefore the bore was increased from 55 mm to 56 mm and the capacity increased to 747 cc.
When the Austin 7 was introduced in 1922, people said it was stupid and nobody would buy such a silly car. But it was a properly designed and properly engineered motor car, which was not true of many of the light cars of that era, such as the GN, the AV Monocar and such like. These weren't motor cars, they were a cross between poor aviation and henhouse engineering. The Austin 7 was a real motor car. It looked like a scaled down Austin 20 or 12, it was reliable, it was a very nice little car to drive and it had very good roadability. When Sir Herbert scheduled production at 300 a week, people said he was crazy and wouldn't sell 50 a week. But he soon had to go up to 500 a week.
Due to the criticism Austin had to put up with when he produced his so-called 'bassinet' he decided to go motor racing again. He was no stranger to racing, for his company had built the 100 hp Austins for the 1908 French Grand Prix and in 1921 and 1922 he had entered a special Austin 20 in the Brooklands meeting. Known as Black Maria, it was driven by Lou Kings, the boss of the Austin road test department and was fitted with a high lift camshaft designed by Sir Herbert's brother, Harry Austin.
So he wasn't a newcomer to racing, and when people laughed at his Austin 7 his immediate reaction was to show what it could do by racing it. After an initial appearance at the Shelsley Walsh Hill Climb in August 1922, it was decided to build a team of three cars with twin carburettors, high lift camshafts and two-seater fabric bodies. After some initial problems with lubrication at high speed the cars became completely reliable and they used to run round race tracks or road circuits just like clockwork mice.
Cont. next month
<![if !vml]>

<![endif]>
<![if !vml]>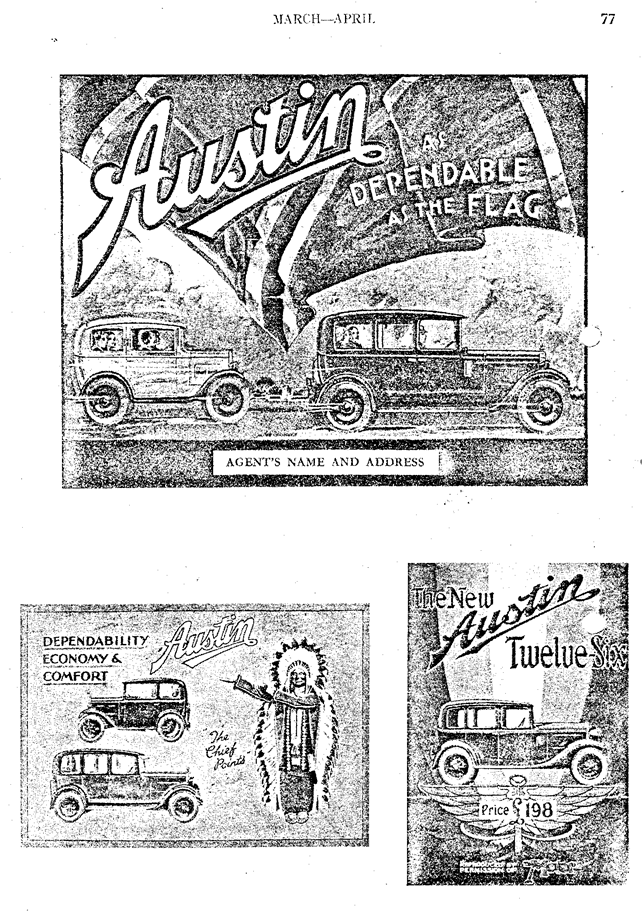 <![endif]>