May 1978
DORSET AUSTIN SEVEN CLUB
EDITORIAL
Last month we had our first evening run to the Red Shoot Inn which was well attended and served to test the nocturnal illumination abilities of the Austins present. I sampled the delights of a 1925 Bullnose driven by Bernard, with his wife Jackie acting as navigator and speed adviser. During the evening I had an interesting chat with Huw Evans from S. Wales who is studying photography at Salisbury - it is not easy to run a Seven on a studentís grant!
Unfortunately, due to illness we were not able to attend the A7CA meeting at Oxford so until we see the minutes there is no news. However, the National quiz at Essex was supported by Bernard, Roger Ballard and Huw Evans who came 6th, out of 9, beating Solent, Essex and the Pre-war Austin 7 club. Cambridge took the trophy again (do you know the unladen weight of various models?) It seems there was some problem with people 'blocking' the buzzer while they thought about the question, but in spite of this technical hitch our members enjoyed themselves and I am sure we all thank them for supporting the club.
Our tee shirt and sweatshirt order has gone in and they should be available in about a week. It was decided to use the club badge in outline as there was difficulty in using a particular model Austin for the motif - a box owner does not want a Ruby and vice versa. The club will have a few extra tee shirts in light blue for those who forgot to order.
Incidentally, did you see the Reveille of April 14th which featured the watercress railway belonging to John Jesty at Bere Regis. It is powered by a 1932 Austin Seven engine and runs on two-miles of 18" gauge track. It is reputed to be capable of towing six tons and I believe it uses two gearboxes in tandem. This railway was mentioned An the 750 MC Bulletin of October 1967 in an article on Austin Seven railways by Viv Orchard. In the same issue you could purchase three cylinder blocks for 12/6d!
Well thatís all for now, letís hope you enjoy the forthcoming events of the season and it is certainly cheaper to get in with an Austin!
THIS MONTHíS MEETING 18th May, Nags Head, Ringwood - a short run to the Avon Causeway Inn (about five miles) leaving at approx. 8.30 pm.
NEXT MONTHíS COMMITTEE MEETING 1st June - The Catherine Wheel, St. Catherines Hill, Christchurch.
FORTHCOMING EVENTS
27th - 29th May†††††† Dorset Scrumpy Run, Bristol A7C. Further details from B. Cowley.
11th June†††††††††††††††††† Caldicot Castle Rally, S.Wales A7C. B. Cowley has entry forms.
2.
Forthcoming Events (cont.)
18th June††††† Essex Motoring Extravaganza, Post House, Brentwood, Essex. B Cowley has forms.
24th June††††† NEXT CLUB EVENT - Evening Run to Bankes Arms, meeting at Viewpoint (top of Constitution Hill/end of Ashley Rd Parkstone) 7.30 pm approx.
1st July††††††††††††† Barbeque, Solent A70 at Ower.
2nd July††††††††††††† National A7 Rally, Beaulieu. 750 MC.
21st - 23rd July†††††† Netley Marsh A7 Rally, Solent A7C.
21st - 23 rd. July†††† Berkley Castle Rally Bristol(In place of Longleat)
6th August††††††††††† Dorset A7C Event Alderholt Steam Rally. J.Page
has forms.
SPARES & REPAIRS
Austineer offers his services:
Spraying††††† )
Panel Beating )† Old or Modern
Welding†††††† )
Chris Smith
176 Southampton Road, Ringwood. Telephone: Ringwood 2567
A LESSON LEARNED........ by Glyn
I jumped into the van, turned the key and all I could hear was a fast clicking noise. Blast! I thought, solenoids gone.
I managed to bump start it and drove to the garage. "Sorry, Mate, we are all booked up, but sounds like your solenoids bouncing. I can sell you one to fit yourself" said the foreman. So off home I go with £6 worth of solenoid and a new dumpy screwdriver, and fitted the new part. Turned the key and Click, Click! Double Blast!! It must be the starter motor. I went down to our local Motorists Shop with the starter, which was very badly worn on the commutator.† "Yes Mate, thatís your problem, or very soon will be" I am informed.
So armed with a new Starter motor for £8.50, I go back home and fit it into the van. Turned key†† - click, click.
BÖ. hell!† What else is there I thought. I checked the cables, still nothing, so I decided to clean the battery terminals. Turned key, away she goes, ruddy marvelous isn't it?
<![if !vml]> <![endif]>

THE WEYMOUTH RUN REPORT by Debbie & Gary Nunn
At 11.15 am on Sunday, 7th May, seven overloaded cars left Wimborne Square for our first club run of the year. After half a mile of trouble-free running, our run organiser and mechanic by trade, John Page, broke down! Having conquered this "crisis" we set off once again, continuing with no further problems. After sailing up several hills, we came face to face with Dave Delaney, who was filming our exploits in not only vision but also sound! Recovering from this surprise, we turned off and arrived at our lunch-time destination, Osmington Mills.
'Weymouth run (cont.)
After eating our packed lunches, we were introduced to Lawrence and Paddy's baby son, doubtless he will turn out to be our youngest Austin 7 enthusiast! We then left, accompanied by Nigel Ricardo and Co. We travelled through Weymouht and carried on to Portland Bill. The Austins raced up Portland Bill hill, only slowed by clapped-out moderns and coaches. Having been photographed a second time; we stopped at Portland View Point to admire the view, which, unfortunately, was marred by fog. After resting the cars, we headed for the Bill. This was very interesting, and would have been even more so if the fog horn had not blasted us all stupid! Being suitably deafened, we descended for a stroll along Chesil Beach.
At 5 o'clock, after a very enjoyable day, and a good few laughs, we all headed for home, clocking up a total of over 100 miles.
Many thanks to John Page for organizing the run and to all those who joined in.
P.S.††††† I am a Grandmother of Debs and Gary and this, my first outing with the Austin 7 club, was a day for me to remember. I had a lot of laughs and thought it was so nice to see families meeting and all ready to help each other. I am so pleased I went.
Sincerely, (Mrs.) Ena Rehm.
<![if !vml]>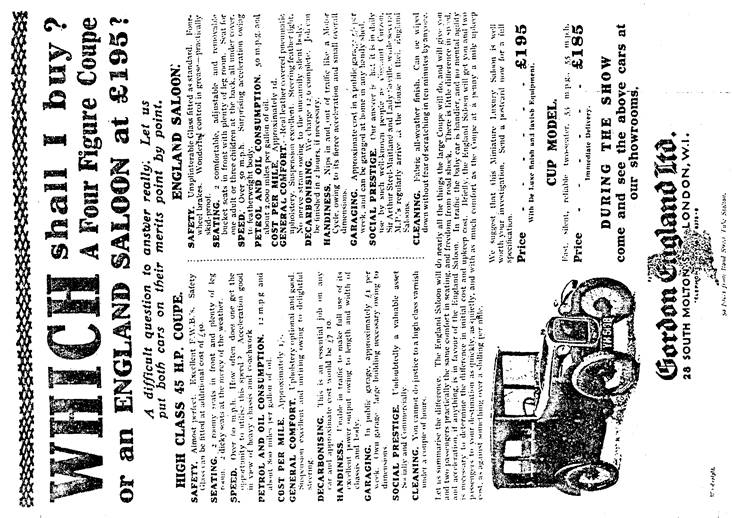 <![endif]>