._                                                                                         •
MAY 1977
DORSET AUSTIN SEVEN CLUB
SECRETARIAL: Our first run seemed to go very well. No doubt the weather helped a lot as it was such a perfect day. We have a report on the run below. Those who entered the Daffodil Run also had a pleasant day, with no breakdowns. I was pleased to see eight of our members entered.
The next major event the club hopes to run is a camping/caravan weekend near Swanage on 18/19th June. Anyone who is interested please contact John Page at Christchurch 73207.
On the car scene, Phil Whitter has just bought a 1928 Fabric Saloon -:it's one of the first produced with a coil engine - the general condition is very good apart from having a later engine installed. I am told by Phil he n
has already got an earlier engine for it. Six months renovation, Phil?? Nigel Ricardo has also acquired another car, a Ruby, which, I believe, is for sale. His telephone number is Dorchester 3530. Apologies to Richard Cowell re. his advert last month, the telephone number should have been Sturminster Newton 72573.
SPOTLIGHT ON PHIL WHITTER
Phil commenced his interest in Austin Sevens in 1965 when, after a series of old cars, he purchased a 1935 Ruby in pieces for £4. The car was put on the road in 1968 and used daily until 1971 when pressures of home improvement forced him to take it off the road. He says it was the worse thing he did as it has quickly deteriorated. At present he is building a new garage to restore his cars in. Recently he fulfilled an ambition to own a vintage car when he purchased a 1928 fabric saloon which he found in 1968. He holds quite a large collection of spares collected over the last ten years.
Phil is a telephone engineer and lives at Broadstone with his wife Hilary and two children.
NEXT CLUBNIGHT 19th May Nags Head, Ringwood. A shorn run to The Alice Lyle Inn, Boyles Court, leaving approx. 8.30 - 8.45. If you come along without an A7 perhaps those who have will give you a lift!
NEXT COMMITTEE MEETING 2nd June Fox & Hounds, Hampreston (just off A.31. All welcome.
FORTHCOMING_EVENTS
22nd May -       South Hants Preservation Club Portsmouth/Bournemouth Run.
Late entries might be acceptable - phone James King Waterlooville 55994.
28/29th May - Bristol A7 Club North Devon Run.
4/7th June - Bristol A7 Club Scrumpy- Run, Dorset.
11/12th June - South Wales A7 Club Caldicot Castle Rally. Closing date 31st May, I have forms.
18/19th June - Dorset A7 Club Camping Weekend, nr. Swanage. (If you
cannot make it for the complete weekend - join us on Sunday)
19th June - Longbridge Rally, Midlands A7 Club. I have forms.
FORTHCOMING EVENTS (Cont)
25th June - Ferndown Jubilee Rally. I would like a good turnout at this one as it is only around the corner. I will have entry forms on clubnight.
MAY DAY RUN 1977 BY PETER TRELIVING
If the weather that we had for the first run of the year is a sample
of what we are going to get for the other club events then it looks as
if we are in for a great year.
The starting point was in Wimborne Square where all assembled received route lists.  However, this didn't stop the organiser getting lost getting out of Wimborne (did it, Bernard?) From here a pleasant run to a huge hill just outside of Wareham took place, where one and all decided to celebrate May Day by climbing to the top to appreciate the fantastic view from this point. The next stopping place was Lulworth for lunch.  However, after parking the cars in a neat line all members migrated to the nearest pub for liquid refreshment (well it was a big hill, wasn't it?) A picnic lunch followed on the green behind the car park and this, accompanied no doubt by the excursion to the pub, made everyone very reluctant to leave for Cerne Abbas. An ice-cream seemed a good idea before we left but, alas, 'twas only Phil Whitter with Dormobile who had popped up to say hello
<![if !vml]>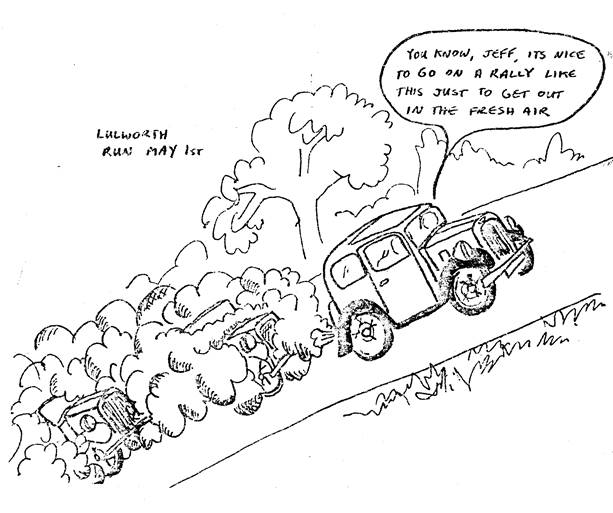 <![endif]>
On arrival at Cerne Abbas we parked near the church and spent a pleasant hour wandering around by the little stream that runs through the village while others took refreshment in a nearby tea room. My little girl thought that the ducks in the pond outside the church looked lonely and decided to accompany them swimming around their domain.  After attiring her in a set of dry clothes the party then set off for Milton Abbas where we visited a Countryside museum containing varied articles from years gone by, ranging from bottles to butter churns to old carts. After an interesting hour we departed for home having spent a really wonderful day wandering lazily around the Dorset countryside.
The weather was, of course, a very big contributory factor in making it an enjoyable day but I am sure that all who took part would agree that most of the credit should be given to Bernard and Jackie who organized the run. At the same time I am also sure they were suitably gratified by the very good turnout for this run, which we hope will be repeated on future events.
<![if !vml]>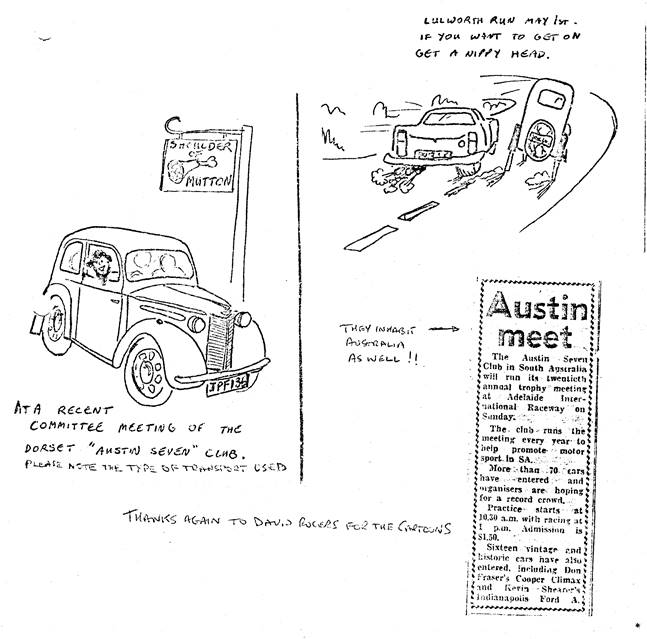 <![endif]>