DORSET AUSTIN SEVEN CLUB                           MARCH 1979
THIS MONTH'S MEETING:            8.15 p.m. THURSDAY 15th MARCH
NAGS HEAD RINGWOOD
An interesting talk on vintage transport by guest speaker.
EDITORIAL,
We all enjoyed the talk by Norman Aish on historic commercial and public vehicles at last month's meeting and his own Bedford bus showed us what a major task a vehicle of this size can be.
Back in the miniature world of Austin 7s I am a bit thin on news this month as I have been on a course for two weeks, but it is good to hear that our membership is well up to strength with our good name reaching the corners of Dorset (and Hampshire!) Bernard has been contacted by someone at Ringwood who is restoring a '28 Chummy and we hear that Pete Beckett has purchased a roadworthy '31 LWB Box.
Richard Cowell wrote to tell me he has saved a '37 Ruby from a garden in Corfe Mullen reg. no. WH 9464 and wonders if anyone knows any history of the car.  It is fitted with a late '32 engine so Richard is looking for a three bearing engine (see Wanted Section)
Tony Pattemore rang up from Salisbury about a snout and spare wheel for his '35 Opal and I think I can help with these bits.  Hope you can make it to a few meetings Tony when the pressure of work allows.
We are trying to improve the print density of the newsletter but our super electric Banda goes so fast it has finished before you have a chance to check its output. Does anybody know of a good electric typewriter going cheap?
Finally, next month I am hoping to issue an up to data list of the Austins owned by our members as some changes have occurred since the one in Feb. last year.
THIS MONTHS COMMITTEE MEETING THURSDAY 22nd MARCH "RIVERSIDE" TUCKTON
SUNDAY MARCH 18th       SUNDAY MARCH 18th       SUNDAY MARCH 18th
TREASURE HUNT                TREASURE HUNT              TREASURE HUNT
Treasure Hunt starting from Alice Lisle, Linford, Ringwood 2 p.m. If you want a drink get there earlier. Bring moderns — this is purely a social event.
**************************************************************************
LIST OF FORTHCOMING DA7C EVENTS:
15th April  . . . ..           Swanage Run
6th May (New Date) .... Wardour Castle Run (North Dorset)
9/10th June      ....... South Wales A7 Club Caldicot Castle Rally.
23rd June         ......... Precision Driving Tests and Barbecue
7th July      ......... Evening run to either Swanage or Lymington (further details about these events in later newsletters)
WANTED
Richard Cowell wants a late Ruby boot lid (think I've got one —Phil) and a luggage rack.
Also 3 bearing late engine in restorable condition. Buy or swop for early Ruby parts.
10, The laurels,
Mead Park,
Gillingham,
Dorset.
WANTED
Handbooks for '28 saloon with coil ignition and early Ruby.  I have May '31 SWB handbook and '36 Ruby handbook, also '23 — '27 parts list.
Phil Whitter - Tel: Broadstone 694857
ALEXANDRA PALACE AUTOJUMBLE SATURDAY 17th FEB.
Bernard, Gary and I left at 6 a.m. on a very slippery morning and after a careful ride down the M3 arrived in London to find the conditions even worse. We crawled up Muswell Hill (or was it down?) to this gigantic white elephant of a building and then found we could not park near the exhibition hall and so had to make several dangerous trips in order to unload the bits and pieces from Bernard's Maxi. The sight of a few hundred people trying to carry old car bits on ice makes quite an amusing spectacle.
A quick trip round the stalls revealed a minimum of Austin parts but plenty of motorcycle stuff. However in spite of this we all had a good day getting rid of some of the motoring miscellanea picked up over the years and we were also able to find some useful bits.  Gary seemed to be collecting 3.25 and 3.50 Avons from all directions at £1 a time, Bernard found a new Ruby clutch thrust and I managed a pair of genuine Austin kingpins and bushes for 20 p. besides finding a Chummy headlight bulb (it's only taken two years to find one but I need two!)
There were lots of foreign visitors obviously waiting for the motor auction on the Sunday and the car park was scattered with RR radiators attached to some interesting bodywork ready to fall under the hammer the following day.
Alexandra Palace cont..
At the end of the day we had a repeat ice skating session to load the car up again and several cars had to be pushed to gain traction, but the Maxi showed its superiority on icy surfaces.
Many thanks to Bernard for a safe drive home in very treacherous conditions.
PHIL WHITTER
<![if !vml]>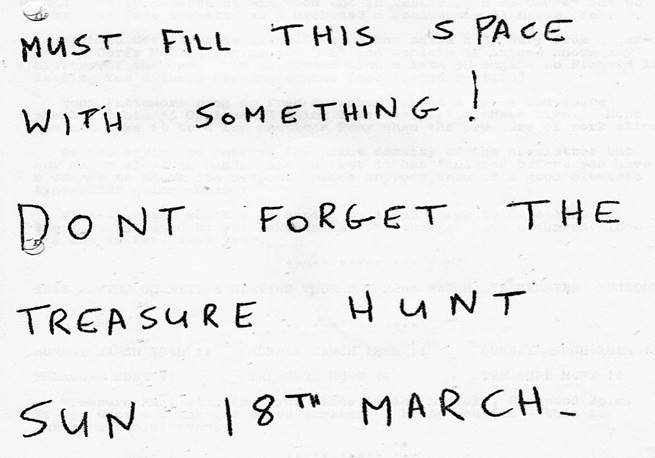 <![endif]>