March 1978
DORSET AUSTIN SEVEN CLUB
EDITORIAL This seems to be the month when Austin owners are thinking about getting their cars ready for the coming season and perhaps making some plans as to which events they will support. To help you decide we publish this month firstly, a list of major events and then a separate list which we discussed at the last committee meeting. This separate list is on the basis of one event per month which the club can give its full support by meeting at suitable points and forming a club run to the event. The list commences with the Daffodil Run on April 30th.
We all enjoyed the films of Solent A7 Club runs which Keith Roach kindly brought along to our last meeting. It will be nice when we can show our own events on film.
Many thanks to Reg Stones for his letter to me and I hope that some more of you will put pen to paper to help stimulate the contents of the newsletter. Tell us about your Austin, tell us about your problems, tell us how to help other owners, tell us your wants and needs.
Next month sees the quarterly meeting of the A7CA at Oxford and the following weekend sees the National Quiz in Essex. We are strug­gling to get a team together so please let Bernard know if you fancy a weekend away (Sat. night 22nd April).
On the car scene it was nice to see Pete Treliving and family returning from a day out in the Ruby the other Sunday. I had a job to push past at 50+ along the Magna Road and Pete showed he still had some in reserve to overtake a slower modern. Bernard has just had the box M.O.T. and is eager to complete the trim on the Chummy when funds allow.
We still need some more contributions to our local services list and our level of advertising in the Sales and Wanted is very low ­does everybody have everything?
Reg Stones tells me that nobody has taken up his offer of a Ruby body which he has in his garden and it may now be scrapped which is a great pity because even a body is a start for somebody.
Interesting to see the number of old cars still in use in New Zealand on a recent "Tomorrows World". It seems we destroy all our vehicles with rock salt (probably financed by the motor industry!) One view of a row of parked cars was like visiting Trents' scrap yard ten years ago.
Lastly, I see that the Bridgewater Building Society are pushing the individualist theme by using a peculiar Chummy in their advertising.
THIS MONTHS MEETING Nags Head, Ringwood) Thursday l6th March. We are holding a short friendly quiz about our favourite subject - hope to see you all there.
NEXT MONTHS COMMITTEE MEETING Somerford Hotel, Thursday 6th April.
New Austin 7 Book The 750 MC Austin 7 Handbook should soon be available at £3 from ,Dave Bradley, l6 Woodstock Road, Witney, Oxon.
2.
BIG SEVEN RESCUE -  by Reg Stones
Way back in 1969 I made a call at my local garage and wondered why a very rough and rusty Austin Big Seven had not received any attention for several weeks. The answer was that it has failed the dreaded M.O.T. due to loss of metal on the underside to the rear of the front mudguard. A very old schoolmistress had owned and driven the car until this time and not understanding the mysteries of the M.O.T. was in fact proposing to commit the remains to the breakers yard.
Fortunately, I was able to make contact with the lady who readily accepted my £10 (a sum she was advised was the maximum worth of the car). She was a very frail old lady of about 80 years and was becoming a difficult client when driving in the filling station for petrol as she tended to collide with the petrol pump with monotonous regularity! (this did not do much for the front of the car either).
To say the Big Seven looked forlorn was an understatement, there were patches of rust everywhere joining with the remains of the black painted bodywork. The lady had devised an ingenious way of camouflaging the rust - using Cherry Blossom Boot Polish!
The garage kindly delivered the car home whereupon I was promptly in trouble for bringing home a 'heap of rusting scrap' and 'what will the neigbours say?'. However, after my efforts at restoration I am happy to say we are now a resplendent Royal Blue and our pride and joy to behold!
SPARES AND REPAIRS
KINGPINS Had a letter back from John Barlow about the B.H.E. king pin set which I returned. It seems that a lot of the pins that were replaced as faulty were still faulty and have had to be returned again. It seems a pity that John has had so much trouble with this item as it obviously has involved him in a lot of extra work on top of the excellent service he provides in respect of other spares.
TYRES I contacted Motorway Tyre Services at Poole (owned by Avon) and enquired about 350 x 19 Avon sidecar tyres and was quoted £12 each + VAT which I do not think can be beaten locally as they retail at £16.40 each.
SPRINGS ETC BY REG STONES I have now fixed myself up with an old set of rear springs which were very rough and patched up. Hawkins of Poole have been extremely helpful and have remade and recambered them to my pattern for only £5. At Electrostatic for my windscreen rechroming was quoted at £15 and for the radiator cowl £40, both being in fair con­dition. But I haggled and grumbled and they finally did the above plus another cowl for £70 - still a big number!
For my Triplex glass I have contacted a Mr. Brock of Priory Glass Works, Stoney Lane, Christchurch who has done them before and had the rubber strip needed.
SALES & WANTS
WANTED Reg Stones on Highcliffe 4355 requires some retaining screws for the top edge of the windscreen hinge on his '33 box.
WANTED David Delaney of 93 Croft Road? Portland, would like to borrow buy or swap for 1932 saloon, oil gauge, dipstick, gear knob, radiator mounting brackets - to make patterns.
3.
List of Club Runs combined with Events
30th April -                  Daffodil Run (entry forms from B. Cowley)
7th May -                     Dorset A7 Club Weymouth Run
27/28th May -                 East Hants Vintage Veteran Display, Blackmore.
4th June -                    HMS Sultan, Gosport.
2nd July -                    Beaulieu
We are also organising an evening run across the Studland ferry to the Bankes Arms, date to be announced.
All details from Gary Munn at 36 Avon Avenue, Avon Castle, Ringwood tel. Ringwood 78795 after 7pm.
Letters to the Editor
"With regard to adverts in the Wanted column it would seem to me to be too narrowly based to be of satisfaction and I think these items ought to be spread into other compound sections. It would be interesting to know if any of the 'wants' are being met? (Not many - Ed.) From what I gather our club would appear to have about ten cars on our outings and forty-seven in the clubs (Less than half on road - Ed.)
As far as Beaulieu and Longleat are concerned would anyone care to consider two sites on the clifftop at Christchurch and Highcliffe managed by the Council which have all the required extras - loos, cafe, shoos, sea and sand plus the New Forest. A man called Major Sandy Franks is looking for the development of Highcliffe Carnival and is very influential at Highcliffe 6307. Hayling Island has a venue of this type on the beach!"
Reg Stones
<![if !vml]>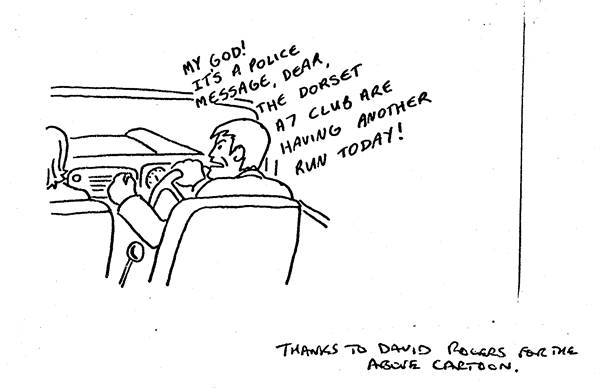 <![endif]>
AUSTIN SEVEN CALENDAR 1978.
March    4th /5th     Brecon Run, Bristol A7C,
        24th-27th     Easter North. Shropshire & Welsh Rarebit Run, Bristol.
        26th          Easter Rally, 750 MC.
April    1st          Dinner Dance, Bristol MC',
May      6th         Andorra Run, 750MC
        7th          Driving Tests, Essex A7C
        7th         A Run to Please Harry, South Wales A7C.
        14th         Spring Spree, 750MC N Herts.
        21st         Biggin Hill Air Fair, 750 MC Tunbridge Wells.
        27th-29th    Scrumpy Run, Bristol A7C.                     
June     4th          A7 Race (Mallory), 750 MC,
        4th         June Jaunt, 750MC Norfolk Centre.
        3rd/4th      North Devon Run, Bristol A7C,
        3rd/4th      Woollaton PWA7C,
        3rd/4th      Big Seven weekend, Big Seven,
        10th/l1th    Caldicot Castle Rally, South Wales A7C.
        11th.        Sussex Run, 750MC Tunbridge Wells.
        17th/18th    Welsh Weekend, 750MC Western Centre.
        18th         Essex Motoring Extravaganza, Essex A7C.
July     lst         Pre-Beaulieu Barbecue, Solent A7C.
        2nd.         Beaulieu Rally, 750MC,
        4th          Sunset Concours, 750 MC Milton Keynes.
        16th         North Herts Rally, 750MC N Herts.
        22nd/23rd    Berkeley Castle Rally, Bristol A7C,
        23rd         Packenham Hill Run, 750MC Norfolk Centre,
        30th         Doddington 750MC western Centre
        30th         Lyden Hill A7 Race, 750MC
August   5th-7th      George F Simpson/Ben Nevis Jubilee Rally,Scottish A7C.
        5th-19th     Scottish Holiday, Bristol A7C, (prow. dates),
        6th          Treasure Hunt/Barbecue, South Wales A7C,
        13th         Longbridge Rally, Midlands A7C.
        20th         Riverside Jaunts 750MC Brooklands Centre,
        20th         Walsingham Run, 750MC.