JUNE 1979
DORSET AUSTIN SEVEN CLUB
THIS MONTH'S MEETING
June 21st Nags Head, Ringwood. We are having an evening run leaving at 8.45 pm to the Rising Sun at Bashley (about 10 miles)
EDITORIAL
As I have been on holiday this month I am not up to date with what has happened or what is going to happen so I hand you over to our Secretary Bernard for all the news on the Austin scene.
RAMBLINGS FROM THE SECRETARY'S CHAIR
June certainly seems to be the month of A.7. rallies. The S, Wales Caldicot Rally and 750 M.C. Crystal Palace rallies were held last weekend. This coming weekend is the Essex A7C Extravaganza at Brentwood and the following weekend is the Berkeley Castle rally of the Bristol A7C
On the 30th the Solent are holding their annual Barbeque at Ower with camping facilities, live entertainment, food and liquid refreshments. Admission being 75p per adult and 40p per child. The following day is of course the Annual Beaulieu Rally.
Roger Ballard went to the A7 auction the other week in Devon and a total of five 7s were sold. A 1928 Fabric saloon (the remains of) went for £300, a 31 Box for £550, a 33 Box (rough) for £125, a 36 Opal for £280 and a 36 Ruby for £200, most of them being runners.
Peter Treliving called the other day with another one for his collection - a '33 Box which he had just bought.
THIS MONTHS COMMITTEE METING
Fox & Hounds, Hampreston, 28th June, 8.15 p.m.
FORTHCOMING EVENTS
27th June ........  H.C.V.C. Little Gore Farm open evening & rally, New Milton. Ask any committee members fan details.
7th July ...........  D.A.7.C. Midsummer Run starting at the Cat & Fiddle (A35) 8.00 p.m. for 8.15 start to Wagon and Horses at Lymington.
14th July .........  Bourne End Carnival.
19th August ....  Longbridge Rally.
BRISTOL AUSTIN SEVEN CLUB EASTER RABBIT RUN
Having returned the previous evening to Salisbury via Wareham, I set off early Easter Monday with some female company to find the BA7C camping by a river at Farleigh, Hungerford where we met
David and Linda Simons from Chippenham  who had rmet the day before on the Swanage run.
About nine Austen 7s set off and very soon came to a steep hill which a Ruby in front of me failed to negotiate and had to go up in reverse!  We visited several parts of the Avon and Kennett canal including the Claverton pumping station which unlike the Crofton pump we visited last year has an under-shot water wheel driving the pump to raise the water.
We had lunch at Bathampton after which we walked down the tow path of the last length of the canal through Bath which has been completely restored.
A very interesting day was further enhanced by John Fitch who organised the whole weekend being so knowledgeable about the canal.
Roger Ballard
<![if !vml]>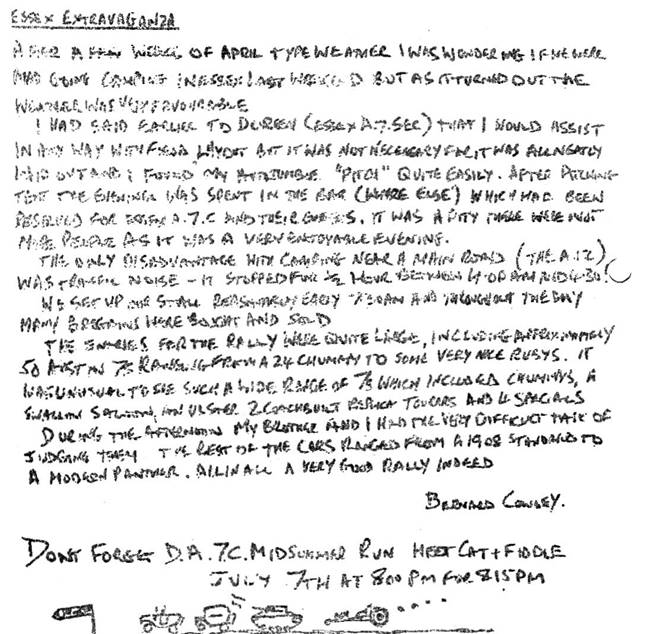 <![endif]>