June 1978
DORSET AUSTIN SEVEN CLUB
EDITORIAL
On last month's run to the Avon Causeway it was interesting to see Nigel Ricardo's 16/6 which he had driven from Dorchester. Unfor­tunately on the way home the car decided to give up just after the Horns Inn. When Bernard and I arrived we found Nigel with the bonnet up, illuminated by the torch of a passing Reliant owner. John Dibben was also soon on the scene and he produced a new coil and which were tried. Nigel was convinced that the timing had slipped and after several attempts to get it going, John towed the car to Longham where more light was available.
So at 12.30 am a 1928 Austin l6/6 silently trundled into the White Hart car park and Nigel phoned the A.A. Relay - "What was the year again, sir?" They transported Nigel, Jenny and the 16/6 back to Dorchester in the early hours and when the car was checked in the light of day, sure enough, the timing chain tensioner had broken and the chain jumped a couple of teeth!
Our members have had their share of success lately. Vic Steel came 1st in class at Biggin Hill and Gary Munn 3rd. Mike Wragg came 3rd in the Bluebell Run (unrestored) and 3rd at Breamore (restored)- work that out!
The tee shirts and sweatshirts look very professional and we hope everyone is pleased with them. As we now have our own screen we can get more printed if necessary.
If anyone is interested, I have a spare copy of a 1975 Mayfair with an article entitled the Magnificent Sevens by Bill Boddy. Else­where in this issue Louise Atterby is reputed to have owned a 1932 box since she was sixteen and is quoted as saying "All I like going with a bang is good old NG 2693" - must check that car in the register!
Back to more serious entertainment, you will see that John Bramwell has kindly offered us the use of one of his fields for a club barbecue on Saturday, 8th July.
Finally don't forget the evening run to the Bankes Arms at Studland on the 24th June and the National A7 Rally at Beaulieu on 2nd July.
This Month's Meeting Thursday 15th June Meet at the Nags Head, Ringwood for a run to the Albany Hotel on the bridge at Fordingbridge. Depart at 8.15 pm.
Next Month's Committee Meeting Thursday 6th July, Fox & Hounds, Hampreston
2.
Forthcoming Events
18th June             Essex Motoring Extravaganza, Post House,
Brentwood, Essex. B. Cowley has forms.
1st July             Pre-Beaulieu Barbecue at Ower
2nd July              750 MC Beaulieu Rally
8th July              Summer Barbecue - if anyone wants to be led there, meet John Page at Somerford Hotel, Christchurch by-pass 7.30 pm.
21/23 July            Netley Marsh Rally Solent A7 Club
21/23 July            Berkeley Castle Rally. This is a club supported event.
Mid-Summer Evening Run to Studland, Sat 24th June.
Meet at Viewpoint (top of Constitution Hill/end of Ashley Road, Parkstone) 7.30 pm Proceeding via Sandbanks ferry to Bankes Arms, Studland. Anyone not knowing Viewpoint ring either Bernard at Wimborne 837666 or Phil at Broadstone 694857.
Grand Club Barbecue, Sat. 8th July at John Bramwell's nursery at Bashley, near New Milton.  John's address is St. Johns Road Nursery, St. John's Rd.,     Bashley. Bring your own food and drink. All members welcome regardless of transport. If you have a wind-up gramophone please bring it along.

FOR SALE
The Club has some light blue tee shirts in large and medium. Contact Phil Whitter at 89 York Road, Broadstone, telephone 694857.
Bernard has some nice A7CA binders to hold 12 issues of the Association magazines at £1.40 each. Tel. Wim. 887666.
BIGGIN HILL AIR DAY
by John Page
On Saturday 20th May, John, Bernard and Gary with their respective
families left Ringwood together for a weekend at the Biggin Hill air show. It was a fine bright day and first stop was the Hogs Back for coffee where, at the neighbouring garage, we were offered brand new fan belts (A7) off the shelf at a very fair price. Next stop was the ½ hour traffic jam to get into Biggin Hill, which on Sunday was 15 miles long and untime­able. Once inside there was a good display by a variety of aircraft, including Swordfish, Spitfire, Hurricane, Tiger Moth, Flying Fortress, Dakota, Buccaneer, Starfighter and a parachute drop by the Red Devils. The climax of the show was a display by the Red Arrows.
Saturday night saw the hardier members camping, while Gary went to visit his grandmother. Another enthusiastic camper was Vic Steel who appeared to be having a short holiday at the air show.
Sunday morning saw the arrival of a good selection of old cars, starting with a 1896 Benz up to a 1963 Jensen. The Austin 7S had a
3.
Biggin Hill (cont.)
separate event and were well represented by all of the models. By this time Roger Ballard had arrived making five members in all. By the end of the day we had seen another fine display by all the aircraft again and a mock-up of the British Army complete with trucks, tanks, half-tracks and jeeps and more Generals than Privates! When it came to prize giving Vic came first in his class and Gary 3rd in his, a good result for such small numbers. After the prize giving we made our way home with no mishaps, the weekend being enjoyed by all.
REPORT OF ASSOCIATION MEETING.
The distribution of the Association Magazine was discussed in detail, and it is hoped that all the problems have now been solved with the result that all future magazines should be distributed on time. Any adverts for the magazine should be sent to Barry Argent 2½ months before the publishing date at the latest.
MOT's were then discussed, and several members showed concern over the new regulations for shock absorber tests and rolling road tests. It was decided that the member representing the Association at the Historical Vehicle Conference at the RAC Headquarters, London, on 13th May should raise these points for discussion (The conference covers legal and other aspects of motoring).
The registrar reported that he now has 2585 cars on his computer list from 19 clubs. A list may be available to members soon at a nominal price.
Chummy hood frames and side screens are now available. Special side screens from around £48 these are for 1927/28 models also side screens £32. There may be a slight delay with the hoods and side screens owing to a full order book at present.
It was agreed that the spares secretary should investigate the possible production of early crown wheels and pinions. It was thought that there was still a plentiful supply of crankshafts.
The breakdown list with about 200 volunteers should appear in 1978B, the continental list is still being compiled and will appear later.
Permission was given for the Stanley Edge drawings to be loaned for display in museums in London, York and Cardiff during the next
nine months.
Reg Nice is compiling a spares and service list and would like to receive information from clubs for inclusion as soon as possible.
<![if !vml]>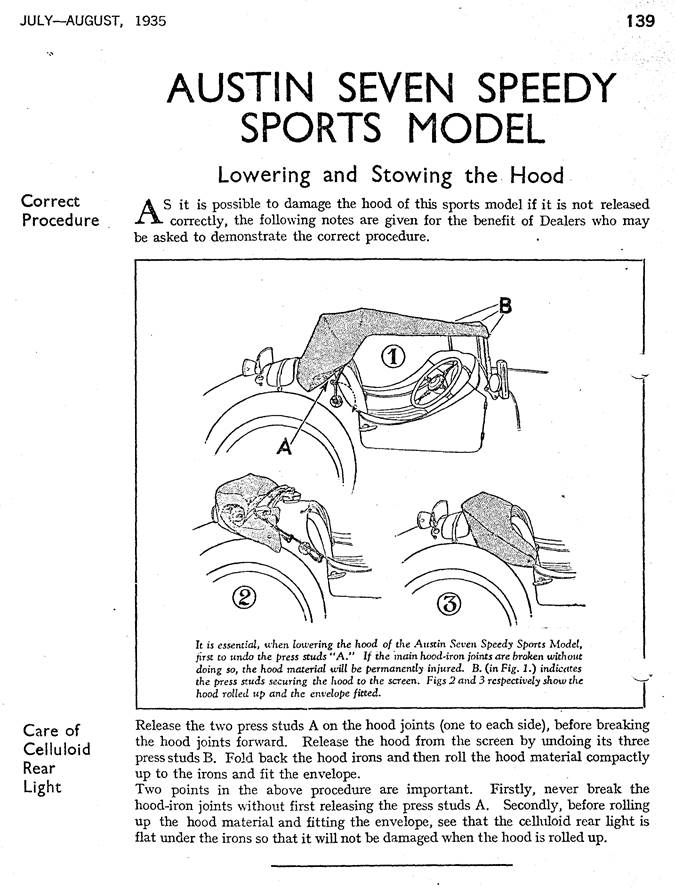 <![endif]>