July 1977
DORSET AUSTIN 7 CLUB
SECRETARIAL It seems quite an eventful month so far - firstly, the camping weekend wasn't!! Apart from a certain member, who owns an Austin 8, going alone because he promised his children a night away. On the 25th June the Ferndown Jubilee Rally was held. quite an interesting entry - the highlight of the day being the Spitfire which swooped low and sounded very good. The annual pre-Beaulieu barbecue was held on the evening of 2nd July at Ower with a jazz band, good food and beer organized by the Solent A7 Club. This year a separate field was opened for people who were camping- and it did not seem so crowded in the barbecue field. The 3rd July was, of course, the Beaulieu Rally at which I was honoured to be a Judge. I found it is not as easy as it looks plus the fact that you have to be pleasant to everyone whilst politely telling them what's wrong with their car. A report below. The 10th July was our first static rally held in conjunction with the Wessex Vehicle Preservation Club. I was pleased to see we had about 15 entries - I managed to obtain three cups from Wadham Stringer for the separate classes. Class A (up to 1930) was won by C. Herring from Tidworth, Class B was won by John Page and Class C by Glyn Llewellyn. The judging was by the Rally principle, that is, everyone judging each other's cars.
The next major rally for 7s locally is the Netley Marsh Steam Rally on 23/24th July - entries are possible on the day but plaques might not be available. I believe the contours is on the Sunday. Last month's meeting was a treasure hunt organized by yours truly finishing at the Sir Walter Tyrell. Five 7s turned up and the winners were: 1st Glyn Llewellyn with his Ruby, 2nd Lawrence Rideal with his box and 3rd was John Page. Unfortunately, they will have to wait until this month's meeting for their prizes - I forgot them!!!
The Association meeting was held unfortunately on the same day as the Breamore Rally - so it has been decided one or two of us are going to the next meeting to get voted into the Association.
Next Clubnight - 21st July Road run from Nags Head to the Albany in Fordingbridge - leaving, hopefully, by 8.30.
Next Committee Meeting - 4th August All welcome. Fox & Hounds, Hampreston
Spotlight On. John Page. John first bought his 7 in 1966 from the 2nd Owner who had owned it since 1936 & was selling it for he was getting too old to drive. John used the car mainly as a means of transport for quite a few years but it was not until Beaulieu Rally of 74 that he really got interested in renovating the 7 back to original order.
John is married to Cynthia (who also drives the 7) and has 3 boys, lives in Christchurch and is by trade a motor mechanic.
Forthcoming Events
31st July - Summer Run, Dorset A7 Club. Starting at Wimborne Square 11am. Further details on club night or from Bernard.
14th August - Longleat Rally, Bristol A7 Club. Forms from Hilary Fitch, 15 Clay Close, Dilton Marsh, Westbury, Wilts, Entry £1.30 per car.
21st August - Dorset A7 Club, Wimborne Air Day. Entry forms with this newsletter. The £1 entry will partly go to club funds so please support it. 
28th August - Hawkhurst A7 Rally. Entries by 20th August to Ivor Thomas, West Point House, Cross in hand, Heathfield, Sussex. £1 per car.
2.
Forthcoming events (cont.)
28th August – 2 pm Vintage Car Exhibition, Sherborne School Quadrangle. Entries accepted on the day. 50p per car.
BEAULIEU RALLY 1977  by Phil Whitter
Some 270 Austins entered the 15th National A7 Rally at Beaulieu this year. The entries were down on previous years but the hot weather produced some interesting low chassis for inspection!!
Dorset A7 Club was well represented with all possible cars in attendance. Nigel Ricardo won the Sports Class with his 1935 Nippy and John Page was highly commended for his bumpers (sorry John, I mean Mulliner saloon!)
Bernard was kept busy judging the 1930-32 class while his brother was selling wind-up gramophones and flying goggles. Willie McKenzie was last seen parting with a vast quantity of notes for some Dunlop rubber.
<![if !vml]>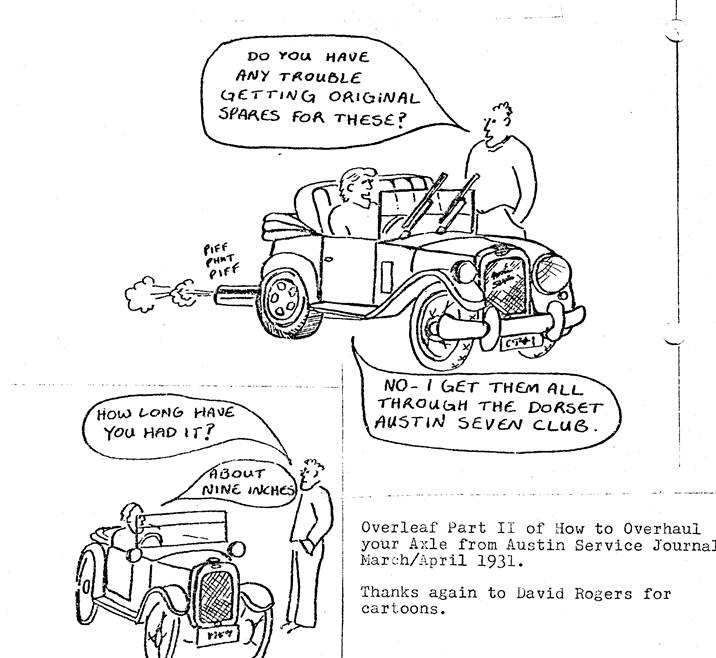 <![endif]>