<![if !vml]>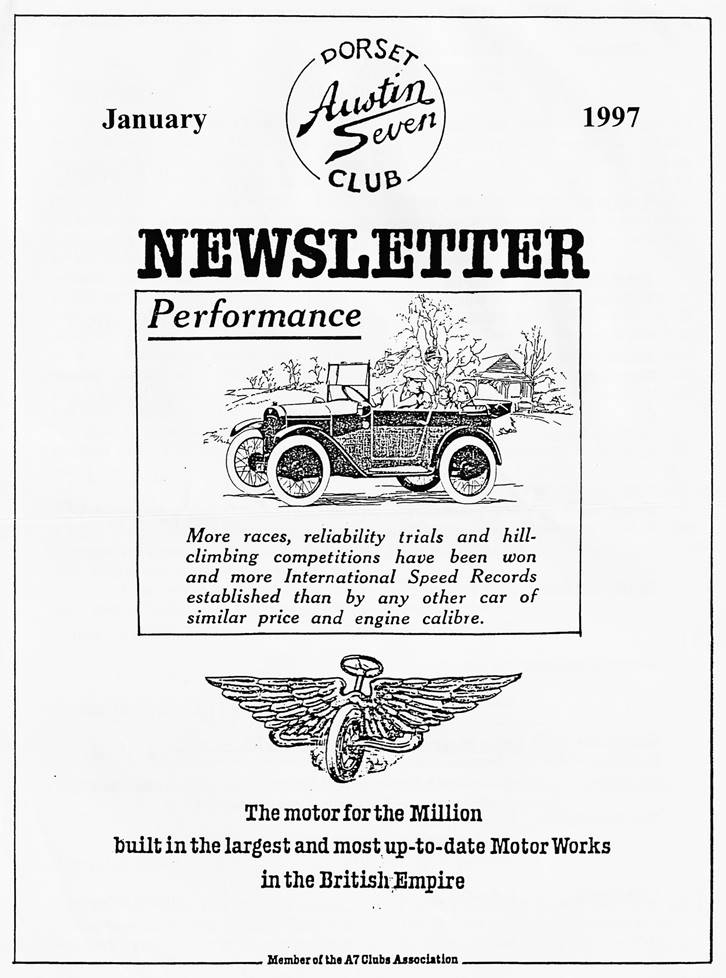 <![endif]>

<![if !vml]>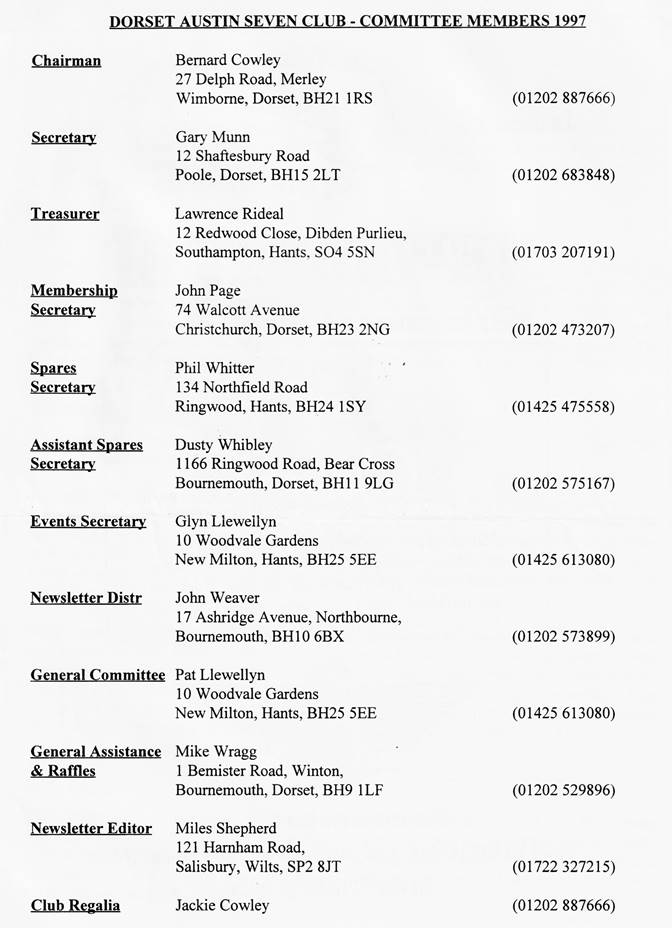 <![endif]>

EDITORIAL
Hallo Everyone,
As Gary reports below, the Christmas Dinner
went off very well.                  The service was
excellent, quick without rushing so the food was still hot when it got to you and no one that I could see waited any length of time. Pat had sorted out the tables so that there was a good balance of friends old and new on each of the tables, and everyone had a very splendid place marker with the Club name, a picture and of an early Chummy as well as your name. One good aspect was that the dinner did not drag on so that we were able to enjoy the Buddies for several hours. The dancing was enjoyed by many and there was even a spot of line dancing to show that we still move with the times in Dorset. It was also good to renew acquaintance with some members who we do not see as often as we would like.
What a cold and miserable start to the New
Year! It was -61/2° C when I set out to Ringwood for the start of the New Year's Day Run. Fortunately, it was slightly warmer, all of -1°C! I was unable to partake of the run due a bout of 'flu but I note that more than 18
car loads of Club members set out on Glyn's Treasure Hunt. A report appears later, thanks to Marilyn and Jeff who were nobbled on the morning of the run! One casualty of the season was the Mooney Cambridge Special which had broken its crank just in front of the first journal. Luckily, George is building a new engine with Phoenix crank!
The Last Run of the year for a number of Dorsets was the Austin Night Rally on 28 December. Terry and Barbara Jeffries won first, prize in the Navigation Rally while Dusty and Bernard came 4th. John and Richard Page also took part as did Pat and Gary.
There are some changes to the Club Diary this month and next, so please look carefully at the back page. There will be NO CLUB RUN in January and the venue for the February Club Night only will be the Tyrell's Ford Hotel.
BFN, Miles
SECRETARIAL
Well Folks,
Christmas and New Year are over already, there always seems such a long build up and then before you know it, its all over and back to work!
I organised the December Run and despite the weather, we had a 9-car turnout. I thought the pub - The White Horse at Downton, near Salisbury did us very well, so if you are passing it is well worth a visit. However, the menu is a bit pricey; as they say, you get what you pay for so give it a try. I can't comment on the December Clubnight as I was otherwise engaged, but I'm sure that all went well.
As you are all well aware, '97 sees the 75th anniversary of the launch of the Austin Seven, so I believe it will be an event packed year.. I wonder how many restorations are geared to finish for this summer season.
Stop Press! I gather we collected £70 for our charity this year at the Christmas Dinner. I'm sure the money will be much appreciated.
See you at Club Night- Gary
NEW YEAR'S DAY RUN 1997
It's 10.00 a.m. on a lovely, but bitterly cold morning and we're off to Ringwood for the start of the 1997 New Year's Day Run. When we arrived at the Furlong Car Park, we were greeted by Sue, Mike and Russell. There were quite a few members there before us, old and new members alike, it was good to see everyone again; it was Hugs and Happy New Year's all round.
There were 15 assorted colours and sizes of Austin's, what a lovely sight. There were also several moderns, such as Lawrence and Margaret with their Morris Minor, so there was a good turnout on the run. Jane and Dusty arrived in their Ulster, Jane wearing her Doctor Zhivago hat - which was just what the doctor ordered today! Jo and Scott also braved the sub-zero temperatures in their Ulster special. Both Ulster's were topless!
Pat and Glyn came round with our route and quiz questions for the journey. We took a quick glance at the route and we were off. We left the car park behind Maggie and Joe, making our way to Burley and on through the New Forest towards Lymington. We drove through some lovely countryside, which was covered in frozen snow, it was just like a scene from some of our Christmas cards. You couldn't have asked for better views, the lake just past Beaulieu was frozen and many stopped to admire the sight.
We are now near our lunch time stop, starting to feel the cold but busy looking for directions and clues for the quiz, as well as taking in the beauty of the run. This helped us all with the cold factor. The Pub is nor in sight, The Swann Inn. It's lovely and warm inside. A lot of members arrived before us; we joined Sue and Brian for our meal. Pam and Norman found us as well. We had a good meal and then chatted with friends, catching up on the Christmas gossip.
Glyn and Pat collected the quiz sheets, with Lawrence and Margaret winning , scoring 8 out of 9. Well done! All too soon it was time to leave the Swann and continue on with the run. Sorry to say, what with the weather getting worse, several members chose to go straight home, which was understandable. The remaining 6 cars arrived at Sammy Miller's Motor Cycle Museum. Pat and Glyn negotiated party rates for us , so in we went. Bob was waiting for us inside and then showed us round the museum, answering all our questions and explaining how everything worked. Even making it interesting for us girls. You could see the pride in his workmanship, as he spoke about the motorbikes. We even met Sammy Miller himself, he showed an interest in us too. Thank youto Bob and to Sammy Miller for a delightful afternoon. A big thank you to Pat and Glyn for a well organised and delightful New Year's Day Run. Thanks again for a lovely day.
Lastly, Jeff and I would like wish all our friends in the Dorset Austin Seven Club a very happy New Year and happy Sevening.
Marilyn and Jeff Bridge
THREAT TO USE OF HISTORIC VEHICLES IN GERMANY
The Federation Internationale des Vehicule Anciens (FIVA) has repeatedly warned its member countries that although we have had great success influencing the European Union authorities in the right direction, laws may still be passed on the national level which can seriously damage our interest. Vigilance and a system for monitoring and influencing legislation is therefore of the highest importance.
From DEUVET, the national FIVA authority in Germany, we have received the following:
"It is the intention of the German Federal Government that motor vehicles in the future will be taxed according to environmental criteria. Vehicles with higher output of pollution will have to pay higher taxes."
The following taxes are proposed from 1 January 1997:
For petrol engines with state-of-the-art catalyzers, taxes drop from DM13.20 to DM 10.00 per 100 ccm cylinder capacity. For petrol engines with ordinary catalyzers tax remains at DM13.20 per 100 ccm. For cars without catalyzers (historic vehicles), tax will be DM 33.20 per 100 ccm cylinder capacity. This is an increase of DM20.00 (about #8 per 100 cc!)
No exemptions have been planned for historic vehicles. Concern has been expressed that legislation can get as far as this has before the alarm bells sounded. The FIVA lobbyist, Reg Dawson reminds us that the EC intends to apply "Fair Pricing" policy which will direct EU countries to apply lower rates of tax and/or tolls to vehicles with low emission and with air- or other road- friendly suspensions. This introduces the concept of "external costs" - noise, congestion, accidents and pollution into the criteria recommended as the basis for taxation. It will be a challenge for the FIVA and national FIVA bodies to secure exemptions for historic vehicles.
From the FIVA Newsletter No 3/1996
THE LAST RUN OF THE YEAR
It was a really nice day for the last run of the year. Gary had organised a short run through the lanes to the White Horse at Downton, near Salisbury. The normal turnout of regular members. plus a new member, Trelawny Burt showing his newly acquired Special which was very period looking and nicely made. Nice also to see Stan Warburton on a run again after a lapse of a few months. Stan is obviously very happy to belong to the Dorset Austin 7 Club as he paid his membership fee twice! Thanks Stan.
On to the run which went through the unusually nice Dorset countryside at a leisurely pace to the Pub for lunch. It is not really a pub but a very large L shaped eating establishment with a small bar. However, the food was excellent. and the service very quick. The whole place had a kind of Christmas buzz about it, a very nice place indeed.
After lunch we went to Woodgreen Village Hall. This hall has been featured on Meridian TV, had a continuous mural painted on all the interior wall during 1932, depicting the many aspects of village life at that time. The people portrayed could be recognised and under each group of people there is a list of their names. whilst looking at the painting of the school group, I realised they are now all Old Age Pensioners! many thanks to Gary for finishing off the year in such a pleasant manner.
MEASURING THE MOVEMENT
You should find enclosed with this Newsletter a simple form from the Federation of British Historic Vehicle Clubs. The purpose of the form is to discover the size and scale of the Historic Car movement in this country. We often hear that the movement is world-wide and supports a multimillion £ industry in this country. The federation does all it can to protect this industry and the movement, but it needs the right tools to do the job properly in an increasingly difficult world. One step on the way to becoming fully equipped is to change this qualitative sense of size into specific, quantitative knowledge. This information is needed because there is an unprecedented threat to the whole world of historic motoring, as you will read elsewhere. The aim is to produce and publicise a picture of an economically successful, vital industry, supported by a strong, widely based historic vehicle movement which politicians of whatever colour - from this country or without - will tamper with at their peril. Nor - knowing our strength - will they dare to restrict our freedom to use the roads or single out our historic vehicles in some misguided 'environmental' campaign.
Please take a few moments to complete the form and return it to the address on the form.
This note was extracted from Issue 28 of the FBHVC News Sheet
NEWS FROM EUROPE - CLOSER TO THE BRINK
If you read the motoring press, and indeed, some other journals, you will be aware that the consolidated Roadworthiness Testing Directive (RTD) has been making its way through the legislative process of the EU. Its progress has been closely monitored by the FIVA transport consultant to ensure that the all-important Section 4(3), which allows member states to establish their own testing standards for vehicles considered to be of historic interest, remained in place, undiluted. It was hoped that the Directive would have become law in the early part of 1996 but the kerfuffle over Mad Cow Disease delayed the process and it was not until the end of the summer that RTD started its final steps to adoption.
It was expected that amendments would be tabled during its passage through the European Transport Committee early in October. but it was also expected that any amendment which changed the nature of the RTD would be resisted by the Transport Commission. The former happened but not the latter and a proposed amendment to Section 4(3) emerged, which says:-
'Member States must nonetheless ensure that vehicles which do not meet the minimum requirements relating to braking systems and exhaust gases are not to be used on the road.'
This amendment, if allowed to proceed to law, would wipe out the historic vehicle movement throughout Europe. [Ed. Your car would become valueless overnight, to say nothing of denying you the right to use it on the road.] A preliminary press release was drafted by the FBHVC and it is reported that a senior UK representative in the Transport Directorate was called out of a meeting at 4 p.m. that same day to be show a copy. This says much for the both the FBHVC's influence and for the speed of modern communications.
Meanwhile, Reg Dawson, the FIVA transport consultant, was sounding out opinion in the corridors of power and lobbying appropriately. Very soon, Reg had obtained confirmation that the Transport Commission will oppose this (and some other) amendments and will continue to do so. In the face of such opposition, the only way the amendment can become law is for a unanimous vote in Council to overrule the Commission, a situation which is believed to inconceivable. The Federation remains on the alert to ensure that the inconceivable is given no hint of life.
Another issue to emerge is the proposed ban on the sale of leaded petrol under the Auto-Oil Programme. You may recall that current proposals are that its should be banned from the year 2000. The transport consultant is being advised by a senior official in the relevant Directorate (DGXVII to be precise) on how FIVA might intervene in the debate. In particular, the official view that additives might solve the problem will be questioned. There is North - South split on this issue with Austria, the Nordic countries and Benelux favouring a more ambitious strategy while the Mediterranean countries stressing the need to face reality. Portugal and the UK took a line which was more compatible with the FIVA line of encouraging the use of unleaded petrol through tax incentives rather than a ban on leaded fuel.
These notes, too, have been extracted from Issue 28 of the Federation of British Historic Vehicles Clubs
ADDITIONAL EVENTS
Early Notice
There may still be some places left on the Club Easter trip to France. If you are interested, please get in touch with John Page (details inside front page). The plan is to travel over to France via the overnight ferry from Poole to Cherbourg and then venture some 60 ish miles into France to spend four nights B&B, probably with Brittany Ferries.
Another Early Notice
Austin Seven Trip to Holland. Following last year's trip to Northern Spain, at the behest of various Dorset Club members, we have agreed to organise a similar trip to Holland in 1997. The trip would last about 10 days and would take place in the first half of June. If you are interested, please send your name, address and telephone number to us by return. We will then circulate a suggested itinerary with costs, ferry details, places of interest etc. Jeff and Jenny Morgan, The Ranch, Well Path, Horsell, Woking, Surrey, GU21 4PJ (Tel 01483 724730).
Pennine Run 20 21 September 1997
To celebrate the 75th Anniversary of the Austin 7, the PreWar Austin 7 Club, on behalf of the A7CA, is organising a major road run of approximately 300 miles.
The route will follow that of the Pennine Way long-distance walk, from North Derbyshire to the Scottish Borders, and will take entrants over some of the highest and wildest roads in Britain. The run will be a serious test of the vehicle, with several severe hills used in the reliability trials of the 1920's and 1930's. Subject to weather, the entrants can expect superb scenery from start to finish. The route takes in many places of interest along the way which should make this a memorable event.
Entry is open to all Austin 7s and Big 7s. The maximum entry will be 100 cars. The run is non­competitive and there will be no timing or average speed to maintain. It will be an informal event similar to the popular Coast to Coast Run, but twice as long! Entrants will receive detailed route instructions, identification plates and commemorative souvenir. Further details are available from your Editor who intends to enter (and has the necessary forms) or from the organiser, Malcolm Parker, Thornetree Cottage, Boltby, Thirsk, N Yorks, YO7 2DY (Tel 01845 537318)
FOR SALE
1937 Ruby De Luxe, nice older restoration with lovely leather interior, new MoT. Drive away and enjoy £2,850 (running/ non-running Austin Seven or "Special" welcome in P/X). Also available Mk 1 Ruby body shell with doors/glass (welding done), chassis, rolling chassis, coil and mag engines, 3 and 4-speed gearboxes, wheels, radiators, body parts, Handbooks, Parts Lists, hundreds more items! Ken 01963 440604.
WANTED
Running or non-running Austin Sevens, "Specials", abandoned projects, large/small amounts of spares. Cash waiting, Ken 01963 440604.