DORSET AUSTIN SEVEN CLUB
SECRETARIAL. Many thanks for the response to the Skittles Evening.  Jackie and I enjoyed it very much. Perhaps we can arrange something similar in the future. I have had a letter from Ian Dunford asking us if we would be interested in joining the Austin 7 Clubs Assoc. I believe that it would be a good idea as we would then be eligible to get the Associations Magazine and also have representation on the com­mittee of the Association. (Reading between the lines, we will be recognized by the Austin 7 movement). To join would mean someone going to the next committee meeting and stating our case - we have to be seconded by another club but Ian said this would just be a formality. The entry fee, by the way, is £5 per annum.
I had a word with Dick Harding of the Wessex Vehicle Preservation Club who is running Motorcade 77 at Breamore House on Sunday 10th July. This is a static rally and autojumble. I have suggested a separate A7 display, which he has no objection to - our own rally but with no expense!! Perhaps I could have your thoughts at the next meeting.
Gary and Derek Munns '30 Box is now on the road and looks very splendid in maroon and black - it puts mine to shame - there is only one snag at present, the top speed is 28 mph. My Chummy has now lost its body and I am starting to renovate the chassis. Peter Treliving's Ruby is having a few transplants which include a new spare wheel tray and wheel arch. He is hoping to have it on the road for Easter. Glyn Llewelyn's Ruby is nearly ready for the road and Mike Wragg is still trying to hunt one down:
I have had an entry form for the Daffodil Run which is organised by the Bean Car Club. The date is 17th April. I am most certainly entering again this year and anyone who wants to join me in convoy to the start (which is near Maidenhead) please let me know at the March meeting. Entries from: Alan Keating, 22 Bass Mead, Cookham, nr. Maidenhead, Berks. SL6 9DJ. Closing date 27th March.
We now have badges available, these being self-adhesive for attaching to the windscreen. Price 20p or 27p by post.
I have listed below a few important dates for your A7 calendar. Also it is hoped the Dorset A7 Club will organise a Sunday Run on 1st May and a camping weekend locally towards the end of June.
23rd March/lst April - Chris Goulds            4th/5th/6th- June - North Devon
10,000 mile Record Event at Goodwood.            Run Bristol A7 Club
8th/llth April - Easter Runs - 750 Club          llth/12th June - Coldicot
(Tunbridge Wells section), Bristol A7            Castle Rally S.W.A7.C..
Club, Solent A7 Club.
25th/26th June - Longbridge
14th/15th May - Biggin Hill Air Fair 750         Rally M.A7.C.
Club.
2nd July - Beaulieu Barbeque
28th/30th May - Scrumpy Run Bristol A7           Solent A? Club.
club.
3rd July - Beaulieu Rally 750 Club
24th July - Dodington House Rally 750 Club Western section.
This Month's Meeting 17th February - Noggin & Natter at The Nags Head,Ringwood.
A most convivial evening was enjoyed by 41 members, wives and friends on January 21st when the Club held its first ever skittles evening. The venue was the Fighter Pilot on Canford Heath and members travelled in from far and wide including Nigel Ricardo from Dorchester and Roger Ballard making a very welcome reappearance from Salisbury.
The evening commenced with chicken in the basket all round, and after greasy fingers had been wiped four teams were formed under the expert guidance of Jackie Cowley and non-member Faraway. Jackie seemed to spend a large part of the evening hauling people away from the bar for their go at the skittles. Appropriately the teams were named Chummy, Ruby, Pearl and Paladin and the ultimate victory went to the Chummy team.
For only 80p a head in these present days of inflation everyone thought the evening was very good value, on top of which the club even made a small profit of £2.58. To add to the Treasurers delight a further £2 was made on the raffle where members feverishly purchased tickets in the hope of winning the specially prepared prototype Austin 7 T Shirt. To look at the financial success of the evening another way it has virtually paid for the clubs member­ship of the A7CA.
Thanks are due to everyone who turned out to make the evening such a success and special appreciation is due to Bernard Cowley who masterminded the whole operation.
L. A. Rideal.
FOR SALE Polished crank case 1934. Ruby radiator; reasonable condition. 2 forward facing starters (Ruby type). One 4-speed gearbox. Gary Munn, Ferndown 891473 evenings.
FOR SALE Pitmans Book of the Austin 7 & 8. Any offers. Richard Cowell, Sturminster Newton 72573 (Work)
WANTED A reasonably priced Austin 7 around £200. Willie McKenzie, Lytchett Minster 2051
WANTED A pair of seat squabs for Ruby. Phil Whitter, Broadstone
694857
<![if !vml]>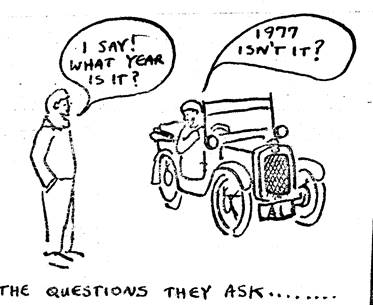 <![endif]>