August 1978
DORSET AUSTIN SEVEN CLUB
Editorial
As I have been on holiday for two weeks and wrote this before I went, I am relying on Bernard to fill in details of club activities such as Berkeley Castle rally. Last month's club run to the Alice Lisle was well supported and Vic Steele won the concours. We were sorry to miss Glyn due to illness (too much metal polish on that cup!) and hope you are O.K. now. It was nice to see Malcolm and Margaret Page again and we all hope Margaret will soon be back in the best of health.
On the car scene Dave Delaney just started six weeks' holiday on his '32 box (wish I was a teacher!), Gary is looking for a Chummy to take advantage of our wonderful weather and Malcolm Page was asking for sunshine roof parts for his Ruby only to discover a complete roof hiding under the sealed top! When he opened it a new ignition and door key were found inside. My fabric saloon is progressing slowly and I am hoping to get it on the road for next year - still desperate for pre-1930 handbrake and cross shaft. Sorry we were unable to print A7CA spares and film lists last month - they appear in this newsletter.
This month's meeting - 17th August, Nags Head, Ringwood. Short road run to the White Buck Inn, Burley, leaving 8.15 sharp.
Next month's committee meeting – 7th September, The Angel, Longham - 8.15 pm
Forthcoming Events -
19th August - Evening Run starting from the Cat & Fididle at 7.30 now finishing at the Sir Walter Tyrell in the New Forest.
27th August - Hawkhurst rally, 750 MC.
28th August - Littlewick Show, A7OC.
16/17th Sept. - DA7C camping weekend at Crofton Pumping Station (in steam). Leaving 10 am Saturday from the lay-by opposite the church on the Ringwood by-pass. Those who do not want to camp can meet at the same place on Sunday morning at 10am    The camp site will be adjacent to the pumping station and it is hoped on Saturday to take a short drive around the locality. Please inform B Cowley, Wim. 887666 or J. Page, Christchurch 73207 if you are interested in coming.
27th August.  Sherborne Carnival Vintage Car Exhibition at Sherborne School quadrangle.  Entry fee 75p to MJ Hunt.
2.
FOR SALE
Medium dark blue sweatshirt and various size tee shirts. No more sweatshirts available until the Autumn - Phil Whitter, Tel. Broadstone 694857
Dave Tanner has dragged the remains of a 1932 box from a hedge and has a steering column complete with an intact horn pad for sale - Tel. Ringwood 4300
I have a lot of Ruby spares including early doors, late windows, boot lid, bonnet, etc. which I will be taking to the Autojumble if nobody in the club needs them - Phil Whitter, Tel. Broadstone 04857
Summer Barbecue - July 8th
After very dubious weather during the day the evening turned out a little brighter and Jackie and I arrived to find John Bramwell and Glyn had done an excellent job in laying out a corner of John's field. We had lights, a large platform for the food and drink, a decent sized barbeque and music from a vintage gramophone, kindly lent by Murray Pacey. Examples of the vintage music played were "Meet Me in the Cornfield" and "I'm in the Middle of a Riddle" - I will not repeat the vulgar comments made about the last title!! It was interest­ing to see that during the several short, sharp showers of the evening, the only umbrella available was used to keep, not the ladies, but the gramophone, dry.
A lot of ale and 'bangers' were consumed by the twenty or so people who turned up and the evening ended at about 10.30. Thanks again to John and Glyn for all their hard work and let's hope we can arrange a similar enjoyable evening for next year.
BC
Berkeley Castle Rally
As we had never been to an A7 Rally for the weekend we decided to go to Berkeley Castle Rally. Saturday dawned fine and we thought our luck was in. The trip up there was quite uneventful apart from getting stuck in a few traffic jams and the Austin beginning to overheat.
We arrived at Berkeley at about 3 pm and were surprised to see so many campers. The site was very level and most picturesque, being in the shadow of the castle. We soon got organised and after a meal were ready to join in the fun by going to the Barn dance with a convoy of about twenty Austins. We all drove to the nearby village hall but unfortunately there was no room to dance and it was too noisy to hear the group so we spent the evening at a nearby fair.
On Sunday morning we awoke to rain and high winds. I was told it started at 5 am and as always we were hopeful that it was just a clearing up shower - but we were wrong and it didn't stop until 8 pm that evening after we got home! Well, back to the rally, it was very unfortunate for Bristol A7 Club because there should have been over 200 entries but quite a few did not turn up due to the weather. The DA7C contingent consisted of Gary Munn, Roger Ballard, Richard Cowell, Richard Cressey, Brian Boarer, Nigel Ricardo, Huw Evans and Dave Delaney .... on foot!!
3.
Gary won the M. Miller Trophy and I was fortunate to come second in the class. Nigel was awarded the G. Crosse Trophy     and Brian Boarer got an award for his Ruby.
It was unfortunate that the weather spoilt what would have been a most enjoyable rally but the '7' made up for it by being faultless (not even a blocked jet) for the whole weekend - looking forward to next year and better weather.  BC
AUSTIN SEVEN CLUB ASSOCIATION (SPARES)
Spares Secretary - J. D. Barlow, 7 Larch Cres. Chilwell, Nottingham.
Since our last list, more changes have taken place with regard to the availability of materials and services, although some improvements have taken place.
We cannot accept any responsibility for loss during transit. Should insurance cover be required, the rates are as follows:-
Up to £10 - 12p  Over, but under £50 - 15p  Under £100 - 25p
Add insurance money to order.     The above applies to spares sent by post only.
All items are carriage paid, unless stated, (tyres and sheet metal) and include VAT. Overseas parcels, carriage extra at cost, but insurance free of charge.
<![if !vml]>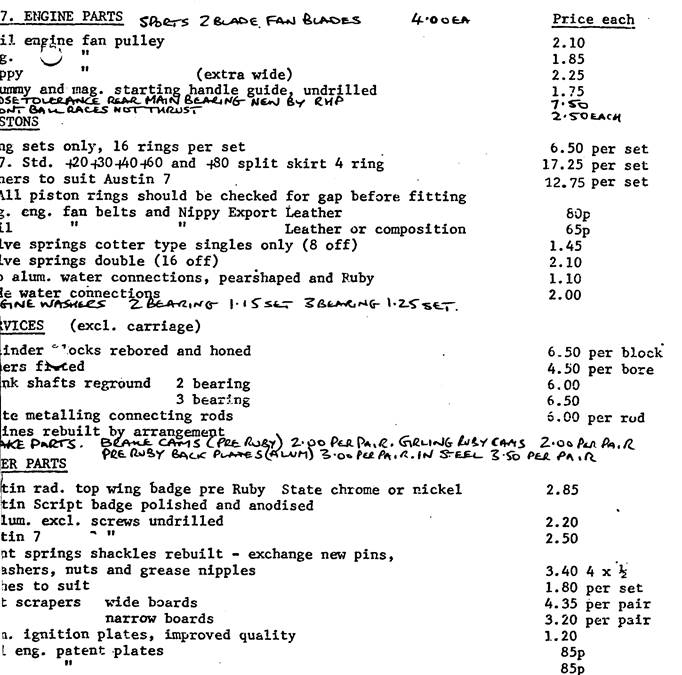 <![endif]>
<![if !vml]>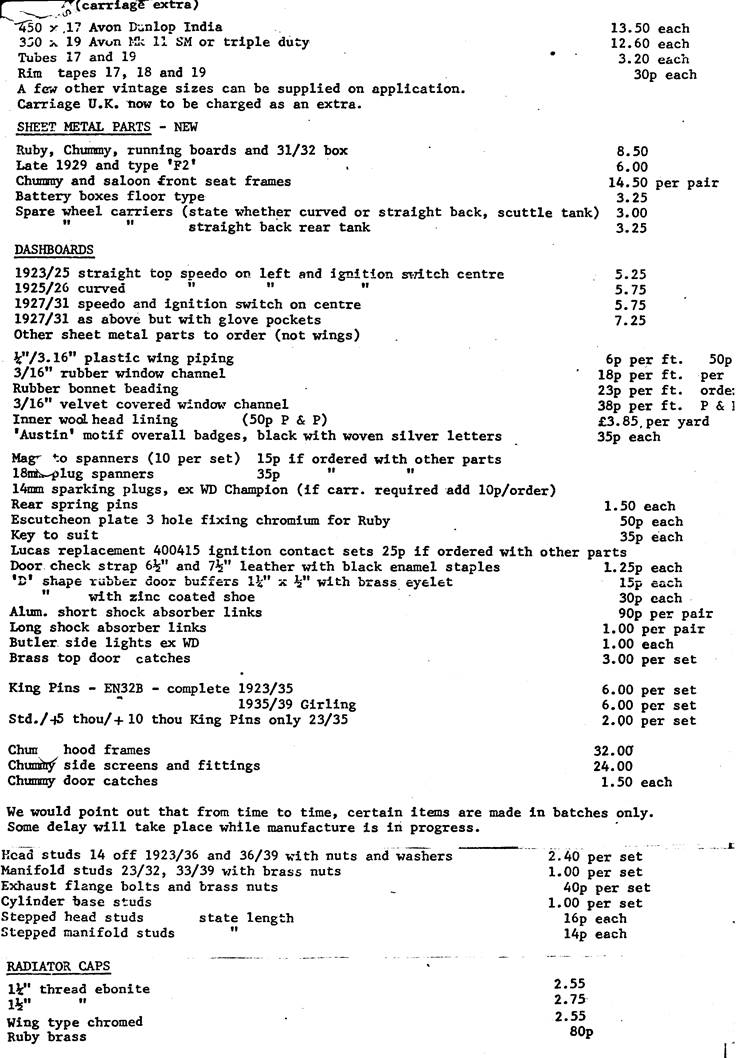 <![endif]>