DORSET AUSTIN.SEVEN CLUB                           APRIL 1979
THIS MONTHS MEETING              8.15 pm. THURSDAY 19th APRIL
NAGS HEAD RINGWOOD.
16 m.m. FILM SHOW OF RARE PRE WAR MOTOR FILMS
PLEASE NOTE THIS FILM SHOW IS IN THE HALL AT THE REAR.
EDITORIAL
This month sees the start of the DA7C Events with the Swanage Run on Easter Sunday the 15th April and before the next newsletter there will be the Wardour Castle Run on Sunday 6th May. Let's have plenty of support for these trips which should have maximum scenic appeal besides the social bit.
We all enjoyed the talk on "motors various" by Mike Riley, at last month's meeting and it was encouraging to see a good attendance. Don't forget our rare film show this month.
Due to a number of problems we were unable to send a representative to the A7CA meeting at Oxford on April lst so we will have to wait for the minutes before we can tell you what was discussed.
The weather was very disappointing for our Treasure Hunt in March and resulted in a poor attendance. Those stalwarts who did turn up enjoyed themselves and Gary had to justify his win by writing a report which appears later.
At last month's committee meeting we discussed a letter received from Roger Ballard who brought forward some very good points about our lack of information on event locations e.g. map reference, also the need to leave info at the start of events to assist latecomers and finally give more details in the newsletter about the finish of a rally or event. We accepted that these are very valid points and we will attempt to improve the situation in future.
On the car scene I must say that the hood which Owen Legg arranged to be made for Bernard's Chummy is excellent and makes a world of difference to the car (it keeps the rain out!) We should see the car on the road in a very short time although there are some minor starter problems.
'  Willie McKenzie is making a superb job of making his sliding roof by hand and his car is nearly ready for some interior trim. Finally you will see that this month I have produced an up to date list of members and their cars so if there are any omissions  or mistakes please let no know so we can update our records.
THIS MONTHS COMMITTEE MEETING THURSDAY 26th APRIL FOX AND HOUNDS, HAMPRESTON.
SWANAGE RUN SUNDAY 15th APRIL
START ... Meet Wimborne Square l0.45 a.m. for 11 a.m. depart.
LUNCH STOP …………Scott Arms at Kingston.    (Take right fork after going through Corfe Castle Village, Scott Arms at T junc. at top of hill)
After lunch will proceed to Durlston Country Park via Swanage old railway station.
Possible return via Upton Country Park depending on time available.
DAFFODIL RUN SUNDAY  22nd. APRIL
Those members taking part in the run meet in lay-by opposite church on Ringwood by-pass at 8 a,m.
WARDOUR CASTLE RUN (North Dorset) SUNDAY 6th MAY
Leave Wimborne Square 11 a.m, details of route and Pub/Lunch stop available on the day. Any queries phone. Glyn Llewellyn New Milton 613080,
MARCH TREASURE HUNT           Report by Gary Munn
The 'Alice Lisle' was the starting and finishing point for our first Sunday event of the year. Unfortunately we only managed to get five competitors plus Glyn and John the organisers, who patrolled the course to make sure we didn't cheat!  After a heavy sleet and rain shower we set off to follow the very clear and precise directions, except me of course who managed at one point to get my car stuck in a quagmire!
Our organisers had arranged some very interesting and unusual clues such as   Who manufactures Manhole covers in Kilmarnock, and name the Uncomfortable Campsite   which together with the collecting of several very strange bonus objects, kept everyone amused especially when we heard how Bernard had got his feather.
Much to my surprise I won, and may I thank John Stone for the sherry.
Praise must go to Glyn Llewellyn and John Page for organising a very enjoyable and interesting treasure hunt. It was unfortunate the weather was so bad, but let's have more support please for our next event at Easter.
Gary
WANTED.
Malcolm Page is desperate for some Ruby rear wings. Tel Bransgore 72207
Willie McKenzie needs a fuse box and distributor for his '34 box, Tel. Lytchett Minster 623447
Wanted urgently, 1 pair of good radius arms to fit 1930 box saloon. Gary Munn. Ringwood 78795 evenings
<![if !vml]>

<![endif]>
<![if !vml]>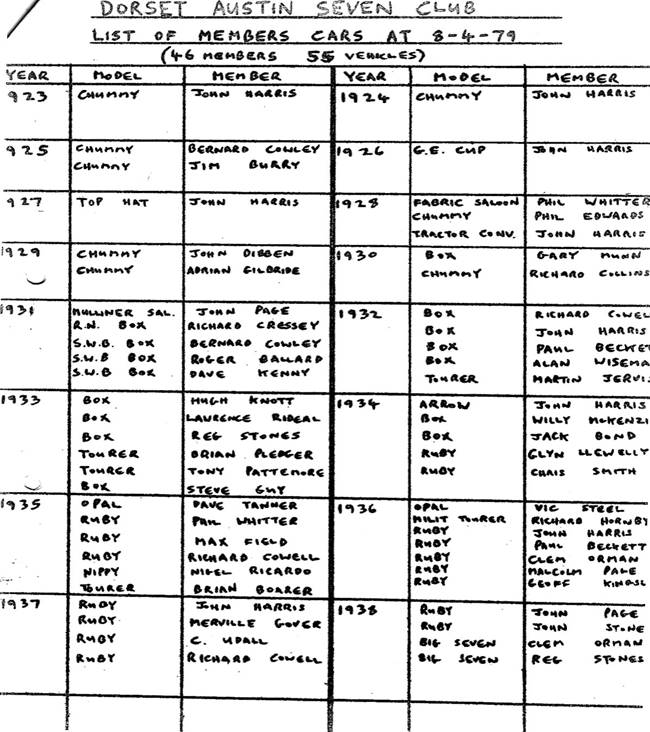 <![endif]>